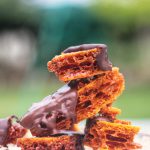 Print Recipe
Dairy-Free Honeycomb Bites
Ingredients
Instructions
Line a tin with baking paper

Grab a deep saucepan and over a low heat mix 200g of caster sugar with 4 tablespoons of Golden Syrup.

Keep mixing and once everything has fully melted turn the heat up a little. Your aim is to get the mixture to a lovely deep golden colour.

Once you have a beautiful golden mixture quickly remove your pan from the heat and add in 2 teaspoons of bicarbonate of soda. Continue mixing and watch the magic happen.

Pour out the foaming mixture into your pre-lined tin and leave it to cool. Do not touch or move the tin.

Leave the honeycomb to cool for a couple of hours. Then remove it from the tin and snap it into bite-sized chunks.

Melt 100g of dairy-free chocolate, I used Bournville. You could do this in a microwave but it works better if you grab a bowl and place it over a pan of hot water (aka bain marie).

Dip each shard of honeycomb into the chocolate and let it dry on a sheet of baking paper.
Hello!
If you've landed on this page then I'm guessing you're dairy-free. Perhaps like me, you have an intolerance (thank you eczema) or an allergy or maybe you simply prefer to keep dairy out of your diet.
Whatever the reason, WELCOME.
At first going dairy-free can seem a little daunting but trust me, it's so much easier than you think.
Today I'm here to share a dairy-free version of my childhood favourite, Crunchie bars. You know, the bars of sweet honeycomb covered with a layer of chocolate. They were so good and boy did I miss them when I first started cutting dairy out of my diet.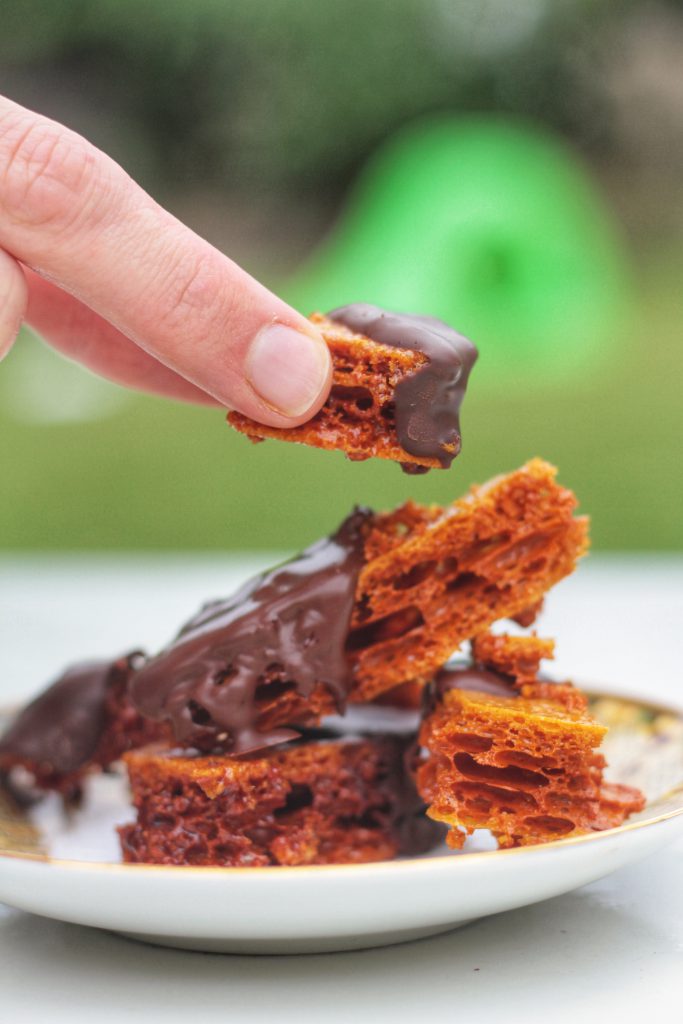 As you can see, I haven't gone for a classic Crunchie bar shape this time but a simple rough and ready honeycomb bite instead. There's no reason you couldn't keep things traditional though. I found these silicone moulds on Amazon which would give them a more traditional Crunchie shape. I plan to make them again this weekend. I'm up for any excuse to make honeycomb again.
To make these honeycomb bites dairy-free you simply use dairy-free chocolate to melt and dip them in. The honeycomb centre is essentially dairy free so there's no need to make any changes to that.
I used good old Bournville chocolate. It's affordable and easy to get hold of. But, you could always use one of the many other delicious dairy-free chocolates available. I think Ombar or Nomo would work really well.
This honeycomb recipe is really easy to make. You can eat the dipped honeycomb as it is or add it to ice cream or break it up into tiny bits and add it on top of a Rocky Road. The possibilities are endless.
Have fun making a dairy-free Crunchie bar at home. I promise, living a dairy-free life isn't as hard as it first seems.