Jump to Recipe
There are many different ways to make bagels all with their own unique results.
Today we're keeping things super simple, although that doesn't mean it's a quick recipe.
So, if you're looking for a fairly straightforward bagel recipe resulting in a damn fine chewy bagel then hopefully you'll enjoy the one I'm sharing with you today. I've been making bagels this way since lockdown 1.0 back in March 2020. I started using fresh yeast because that's all I could get hold of and I really enjoyed the results the fresh yeast gave. However, now we have a little less time day to day I'm using instant yeast which works aslo well.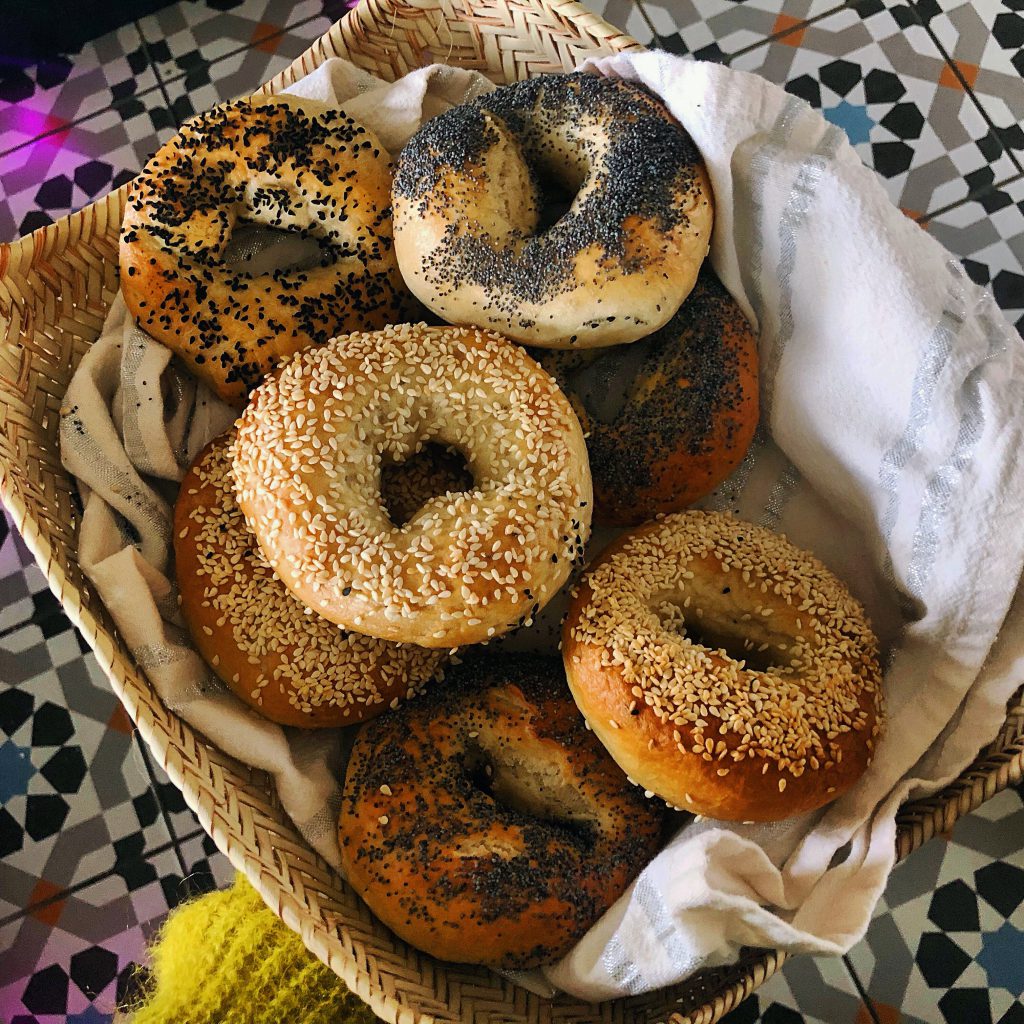 I love everything about making bagels at home. Nothing beats fresh bagels for breakfast or lunch and the process of making them is very relaxing to me.
To me, I know I've made a good batch of bagels when they can be enjoyed with no fillings at all and without the need to be toasted. However, saying that, adding a delicious filling to a freshly baked bagel is an absolute joy.
I spend a lot of evenings reading about the science behind bagels yes, really. I'm not sure why but I hope that in time it will lead me to improving upon today's simple bagel recipe. I'm always testing out new things when it comes to making bagels which adds to the fun of it and of course who doesn't love a taste test?
Dairy Free Bagel Fillings
Let's quickly touch on dairy free bagel fillings.
Sometimes my husband will make salt beef to fill them with, other times I like to keep it simple with Naturli (best dairy free butter) and Marmite and then of course, you can't beat a classic Plant Based Philadelphia and smoked salmon filling.
There are so many dairy free filling options for bagels and of course, there are many dairy free alternatives for those classic dairy filled options we all once loved.
I think there needs to be a full blog post dedicated to dairy free bagel fillings but here are a few to get you started once you've made your fresh batch of homemade bagels.
Peanut butter, chopped banana and honey
Bacon and scrambled eggs
Fried egg with avocado and lots of chilli flakes
Tuna mayo
Dairy free Nutella alternatives such as Vego or Plant Kitchen Hazelnut spread or Valsoia
Anyway, let's make some bagels.
Simple Homemade Overnight Bagels
Ingredients
500

g

bread flour

2

tsp

salt

1

tbsp

caster sugar

1

packet

instant yeast

275

g

warm water

1

tbsp

white vinegar

50

g

brown sugar

Poppy/sesame seeds
Instructions
In a large mixing bowl add the bread flour, salt, sugar and yeast

Pour the warm water and vinegar into the bowl and mix

Knead the dough for 10 minutes then let it stand for 10 mins

Cover the bowl and leave it in the fridge overnight

Wake up early and take the dough out of the fridge a couple of hours before you want to use it

Sprinkle some flour onto your surface, punch down the dough and knead it before splitting into 6 (ish) balls. I like to weigh them out to ensure they're around 120g

Pre heat your oven to 220C and cover your baking trays with baking paper

Fill a large pan with boiling water and add the sugar in. Once it's simmering you're ready to go

Use your thumb to form a hole in the middle of the first ball of dough. Shape into a bagel and lower it gently into the water. Repeat with each ball of dough

Boil for 30 seconds and then carefully turn the bagel over and leave it for another 30 seconds. Carefully remove each bagel and place onto the baking tray and cover with poppy and/or seame seeds

Pop them in the oven for 20 minutes

Enjoy fresh hot bagels for breakfast