This is such a simple and nostalgic cake to make. I mean, let's be honest, it was the highlight of school dinners and perhaps, the highlight of school.
It's a cake that's perfect for any time of the year and you can spice things up just a little by switching out the sprinkles. Just imagine this covered in Halloween or Christmas themed sprinkles.
Jump to Recipe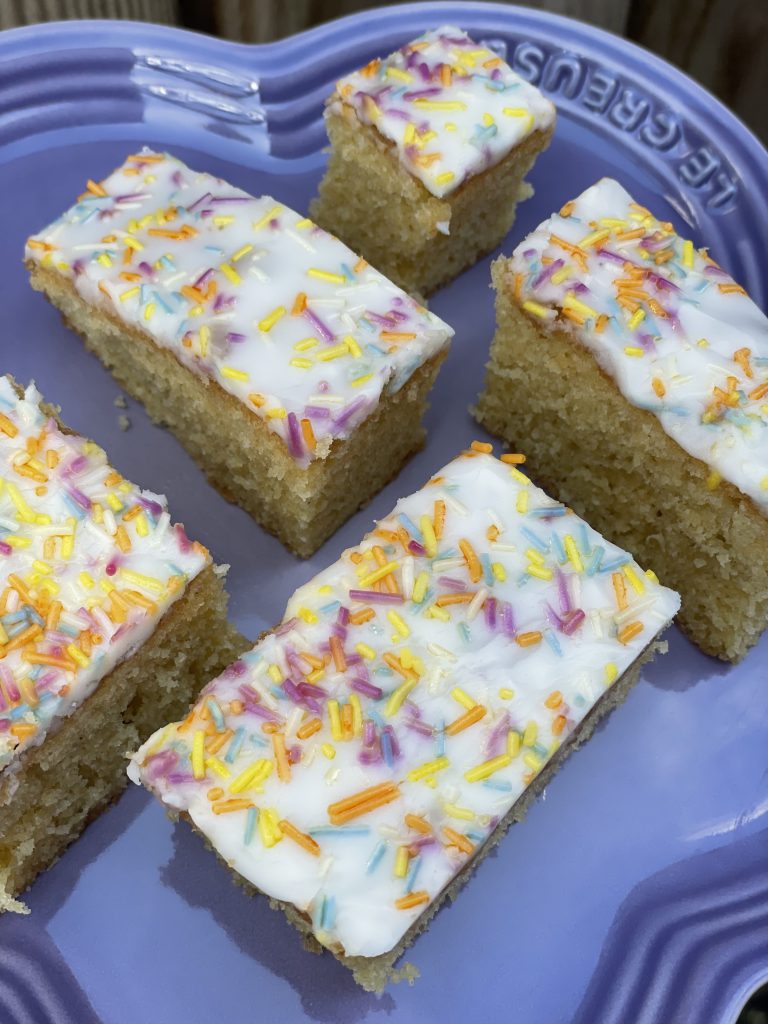 The simplicity of the sponge cake alongside the sweet icing and burst of colourful sprinkles, or hundreds and thousands if you prefer, just works so well. It's one of those cakes that will put a smile on everyones face.
I've seen lots of people making this cake over the last year, especially over on Tiktok. So, I thought it was about time to do it myself but of course, with some of my favourite dairy free alternatives.
Within this recipe I use oat milk in place of regular milk but you could use other milk alternatives. I just personally like to go with oat when I'm baking. You can also make the cake without adding milk into the mixture but I found it a little on the dry side. Not bad, just not as good as it could be.
Then for the butter replacement I went with Flora Plant because it was on offer in my local Tesco and works well in cakes. I've also made this recipe with good old Stork too and got excellent results.
I recently spoke a little more about dairy free butter alternatives in my Intro To Dairy Free Butter blog post and also on my Dairy Free Daisy podcast. If you're new to the world of dairy free life then you might find them useful.
It's also important to ensure the sprinkles you're using for the topping are dairy free. Most are but not all. On this occasion I used Tesco Colourful Sprinkles. I was happy with the results but would like to find something even more colourful for next time.
Ever since I made my first Dairy Free Old School Sprinkle Cake back in July I've already had several requests from family to make it again. I think that's a pretty good confirmation of an excellent tray bake.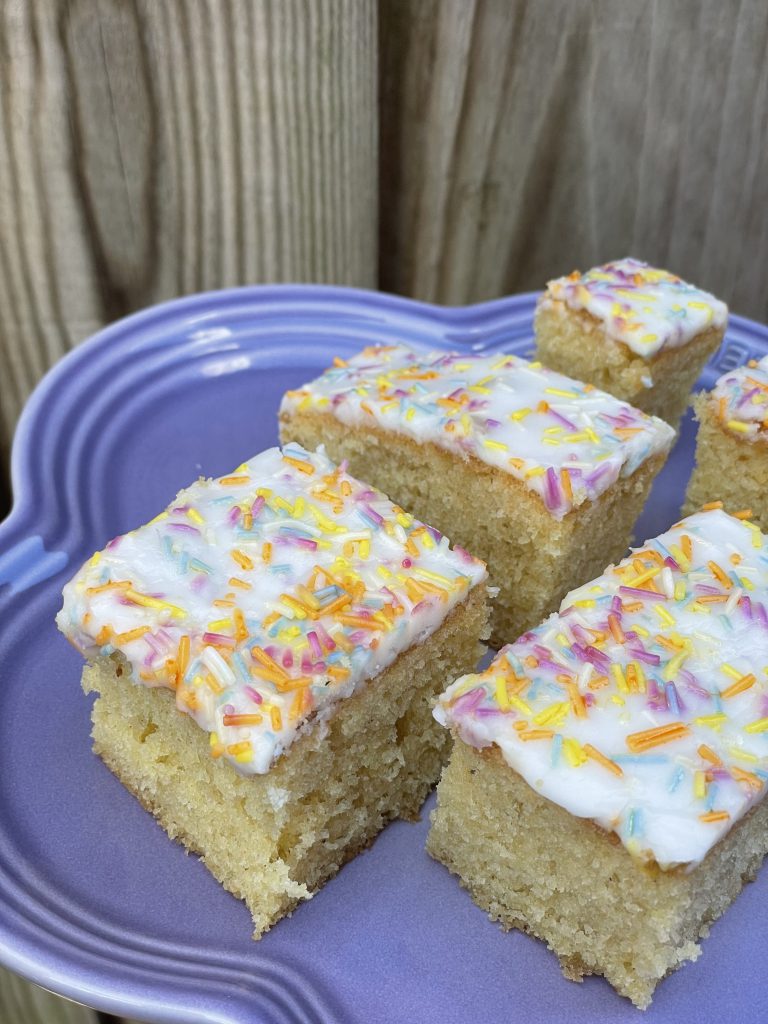 Dairy Free Old School Sprinkle Cake
Ingredients
250

g

Dairy Free Butter – I used Flora Plant

250

g

Sugar

2

tsp

Vanilla

5

Eggs

250

g

Plain Flour

1

tsp

Baking Powder

70

ml

Oat Milk
To make the topping
250

g

Icing Sugar

30

ml (ish)

Milk or water

Sprinkles
Instructions
Heat your oven to 160C fan/180C.

Line a cake tray with baking paper – I used a 25X35 tray.

Whisk together the butter, sugar and vanilla together for a few minutes. Don't over mix which is particularly easy to do when using dairy free butter.

Add the eggs into the bowl and mix well between each egg.

Next add the oat milk, baking powder and flour. Beat 'til you have a smooth batter.

Pour the cake mixture into your baking tray and pop it into the oven for 30-40 minutes. Keep an eye on the cake because all ovens can vary.

Remove the cake from the oven once a skewer (or knife) comes out clean.

Remove the cake from the baking tin and leave it to fully cool on a wire cooling rack.

Once the cake is cool it's time to make the icing, the best part! Firstly sift the icing sugar into a mixing bowl.

Then, very slowly add a little milk (or water) and mix. Continue doing this 'til your icing is at your desired consistency. I like mine to be lovely and thick.

Spread the icing over your cake (do make sure it's cool) and then cover it with sprinkles.

Let it set for 30 minutes and then slice and serve up with a cuppa tea.