Easter Nests are a truly classic treat and a nostalgic one at that.
Jump to Recipe
I have very happy memories of making them with my mum and filling them with Mini Eggs. Actually, when I started to phase out dairy from my diet many years ago Mini Eggs were one of the chocolates I really missed. I'd often have a few (a whole bag) thinking it would be okay but then a couple of days later I was left with an eczema flare up.
Luckily, one of my favourite dairy free chocolate brands, Doisy & Dam launched their own version of Mini Eggs the other year.
Enter, Good Eggs.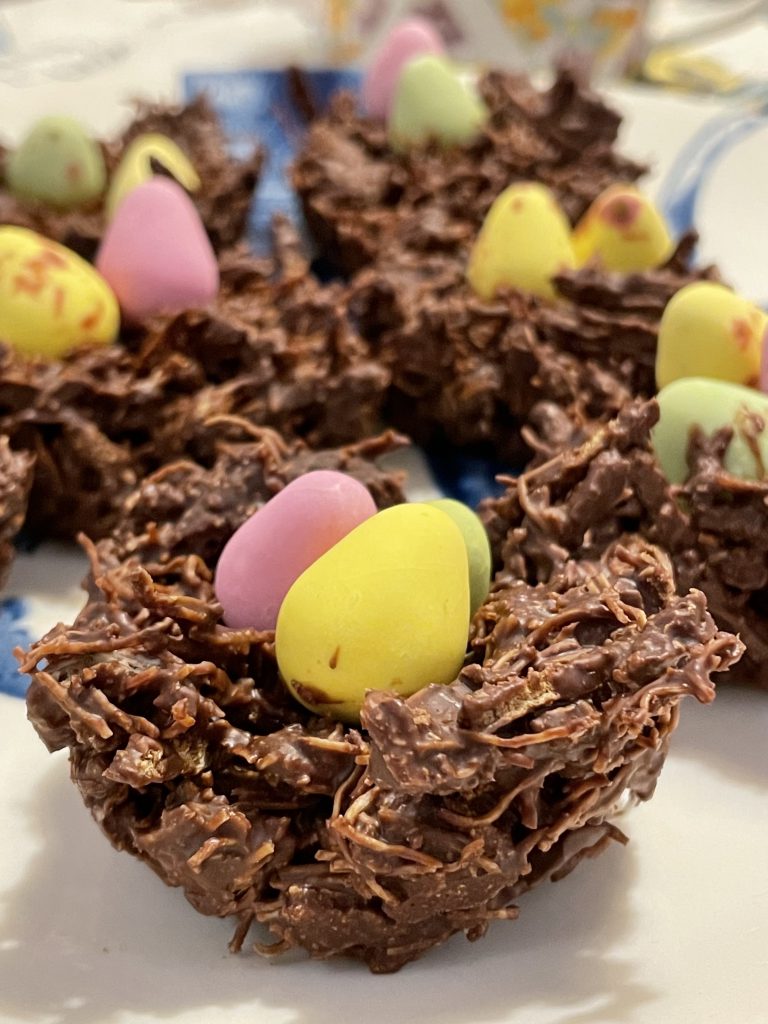 Ever since these delicious dark chocolate eggs launched I've been buying them. I stock up when they're on offer and make sure I have a few bags to keep me going long after Easter.
Last year I used Good Eggs in my Dairy Free Easter Rocky Road. Today I'm using them in these Dairy Free Easter Nests. I have a couple more Easter recipes that I plan on using them for in the coming weeks.
Dairy Free Chocolate Easter Nests
So, as you can imagine, this recipe is super simple.
You can get creative and use whatever kinds of cereal (as long as it's dairy free) you like. My favourite has to be a combo of Shredded Wheat and of course, All Bran for that added fibre kick.
Easter Nests are fun to make as an adult but if you have little ones then they're sure to join in. My toddler loved getting involved with the making of these chocolate treats but was gutted when I insisted on crushing up the eggs before he ate them. He's only 2 and I didn't want to take any chances.
When it comes to deciding what type of dairy free chocolate to use it's really up to you. This time I went with Nomo Dark and Creamy chocolate bars. I always like to use a combo of dark and "milk" for recipes like this and I also had a few bars stoked up from the last time they were on offer.
In terms of a dairy-free butter alternative I opted for Flora because that is what I had to hand and enjoy baking with in general. There are so many options on the market these days, pick your favourite.
Dairy Free Chocolate Easter Nests
Easter Nests are a true classic and are very simple to make with just chocolate, cereal, butter and cute little eggs. This recipe makes 9 nests.
Ingredients
200

g

Dairy Free Chocolate

I used Nomo Creamy Choc & Dark

25

g

Butter

I used Flora

100

g

Shreddies & All Bran

1

bag

Doisy & Dam Good Eggs
Instructions
Melt the dairy free chocolate and butter. I did this using a bowl over a saucepan of simmering water.

Break up the Shredded wheat and add the All bran into a bowl and give it a quick mix.

Pour the melted mixture over the cereal and mix until everything is coated in chocolate.

Grease a cupcake tray and add a tablespoon of mixture into each section. Alternatively, you could use cupcake cases but I like the shape of the nests without a case.

Add the eggs colourful Good Eggs on top of each nest and pop into the fridge for 30 minutes or 'til they have set.

Enjoy your nostalgic but dairy free Easter Nests with a cup of tea.
Let me know if you give this recipe a try.