Dairy Free Rocky Road is ALWAYS a good idea and it's even better when you can link it in with a holiday like Easter. Not so long ago it was very hard to find seasonal themed dairy-free chocolate options but things are finally changing. The supermarkets are filled with lots of dairy-free and vegan options this year and the market will only continue to expand as the years go by.
Jump to Recipe
For this recipe I wanted to focus on using egg shaped chocolates, just like the Mini Eggs we all used to love before we had to ditch dairy. So, this year I was delighted to find Doisy & Dam's Good Eggs in Holland & Barrett and Moo Free's Choccy Eggs over on their own website.
I think the colourful Doisy & Dam eggs are perfect for giving the Rocky Road a traditional Easter feel and the chunky white chocolate eggs add texture and look cute too. Both sets of eggs are delicious and I've stocked up for more recipes over the weekend.
This recipe, like many dairy-free bakes is also vegan friendly if you switch out the Flumps marshmallows for vegan ones likes these.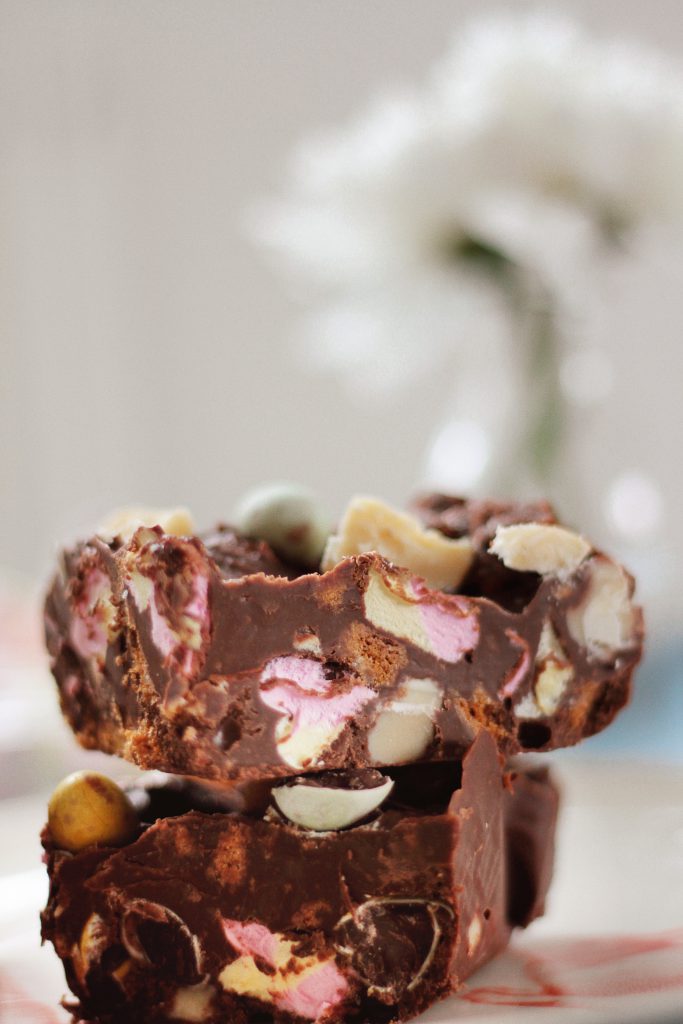 I must point out that the Doisy & Dam eggs are made in a factory where milk is handled as is the Bournville chocolate I used. Please ALWAYS check full ingredients and 'may contain' labels to ensure they're suitable for you. If you can't use may contain products then I suggest you go with the Moo Free eggs and chop them close to the base, use the bottom to add into the rocky road and the top to decorate with. Moo Free also do delicious 'milk' chocolate bars or you could use The Free From Kitchen Co which is stocked in Tesco for the main base of your Rocky Road.
Just to reiterate, please always check ingredients labels and only use products you know are suitable for you.
When you first switch to a dairy free diet through choice or necessity it can be hard. However, I hope that through this blog I'll be able to show you that it's not as difficult as it may initially seem.
Rocky Road was one of the first things I made when I realised I needed to cut out dairy from my diet. It's a classic, easy to make and can be truly jazzed up depending on what you like. Over the years I have made this a lot and my friends and family who can eat all the dairy they like have never noticed a difference. You honestly don't feel like you're missing out when it comes to Rocky Road.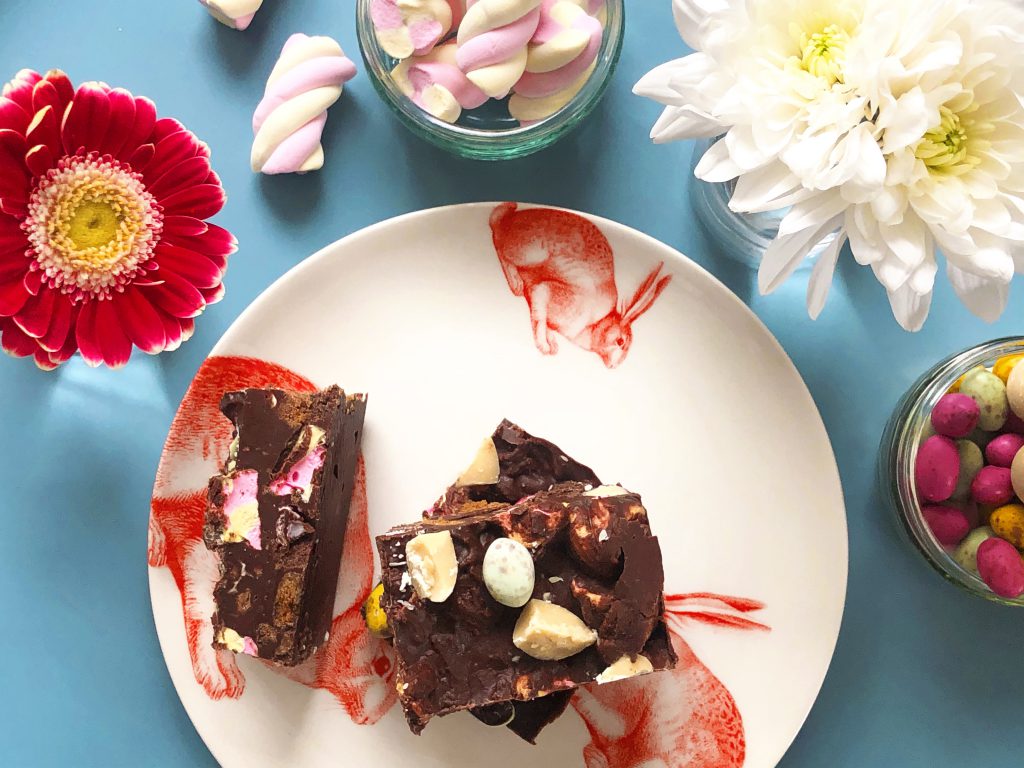 I hope you enjoy this Easter Rocky Road recipe. If you do give it a try I'd love for you to tag me in a photo over on Instagram.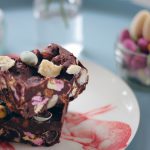 Print Recipe
Dairy Free Easter Rocky Road
This is a quick, simple and free from dairy recipe for an Easter themed Rocky Road
Ingredients
120

g

Dairy Free Butter

I used Naturli

360

g

Dairy Free Chocolate

I used Bournville

2

tbsp

Golden Syrup

50

g

Marshmallows

100

g

Biscoff Biscuits

150

g

Dairy Free Mini Eggs

I used Doisy & Dam and Moo Free
Instructions
Grease and line your favourite baking tin with baking paper.

It's good to get ahead of yourself for this recipe and prepare all of the biscuits and chocolate you plan to use.

Break up the Biscoff biscuits into small pieces. You can do this by hand or place them into a freezer bag and crush with a rolling pin.

Cut the marshmallows into small bite-sized pieces. If you're using mini marshmallows then you can skip this step.

Have your dairy free eggs ready to go and remember that you'll need to keep some for decorating your rocky road before it goes into the fridge.

I roughly chopped the larger eggs.

Set your biscuits, marshmallows and chocolates to one side.

Melt together the butter and golden syrup and then add in the chocolate and keep mixing 'til everything has melted together. You can do this in the microwave, in a pan or my personal favourite way, in a Bain Marie. To do this, grab a pan, add hot water from your kettle, put the hob on a very low heat and place a bowl over the pan. Remember to make sure the bowl fits comfortably, you don't want it to fall into the pan.

Once everything has melted together and the mixture is lump free you can take it off the heat and leave it to cool.

Add your pre-broken biscuits, marshmallows and dairy free mini eggs into the chocolate and mix everything together. Be sure to leave a few eggs to one side so you can use them for decoration.

Pour the chocolate mixture into your baking tin and spread it out to evenly fill the tin.

Scatter the remaining eggs as decoration and pop it in the fridge for a couple of hours.

Remove from the fridge, slice, take a photo for Instagram and enjoy!