We're planning to sow our pumpkin seeds in the coming weeks and it instantly reminded me that I have the most delicious dairy-free pumpkin loaf cake to share with you.
Jump to Recipe
Seriously, if you like pumpkins and all things spice then you must give this a try. You can use fresh pumpkin puree or tinned, the choice is yours.
How to make pumpkin puree from scratch
If you can't get hold of tinned pumpkin (Waitrose and Tesco seem to have it all year) and you have a pumpkin to hand you can just make the puree at home.
You simply take your pumpkin and slice it down the middle. You can slice off the top now or leave it 'til it has roasted, I prefer to do the latter.
Next you need to scoop out all the seeds and pulp from inside the pumpkin. Set these aside to roast later.
Now lay the pumpkin flesh side down on a baking tray and cover with a little oil.
Pop the pumpkin into the oven for 30 minutes on 200C/180 Fan.
When it's ready take it out to cool, remove the skin and blend.
I know this is the kind of recipe that is popular throughout autumn and winter but I worked so hard on it that it would be a real shame to keep it hidden away for 6 months. Plus, who says you can't grab a tin of pumpkin puree and make a fresh loaf for breakfast today? Alternatively, you could always pin this recipe for a rainy day.
I made this loaf cake about 6 times throughout autumn, along with a bunch of other pumpkin themed recipes. I really wanted to get the recipe for this delicious and moist Pumpkin Loaf Cake just right and I can honestly say that I have done it.
I mean, look at her!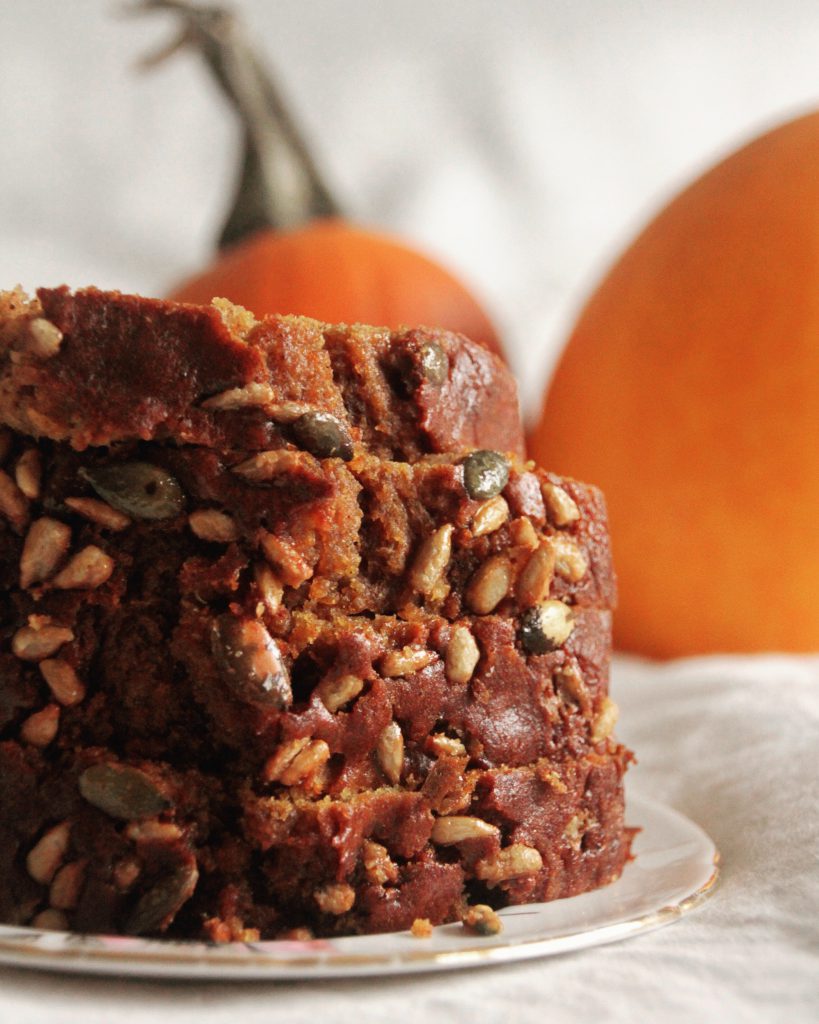 I know, what a beauty!
It's a very easy loaf cake to make, you simply combine the wet ingredients into your favourite mixing bowl and then add in the dry ingredients. You can get really creative with this loaf cake and add in walnuts or chocolate chips but after trying each of these options I really think it's best left plain. If you like your cakes sweet then you could also add a lovely cinnamon frosting once the cake is baked but again, I just don't think it's necessary this time. This is one of those cakes that isn't sickly sweet and I think it's best left that way. I love it when you can get away with having a slice of pumpkin loaf cake for breakfast.
This loaf cake is perfect for anyone who is dairy-free because it uses oil instead of butter. I plan to share a vegan recipe soon for anyone who can't or chooses not to eat eggs.
What shall I top my pumpkin loaf with?
As I mentioned, you could top this pumpkin loaf cake with a cinnamon or cream cheese frosting, dairy-free, of course. Alternatively drizzling it with dark chocolate would work well. If you want my truly honest opinion then I really think you should opt with some sweet seeds. You could make your own or use a pre-made mix like I did.
I love Munchy Seeds and we always have them in the cupboard for baking or snacking on. They're dairy-free and vegan-friendly and they taste so good. They're sweet without being sickly and really have a chance to shine when you use them to top a loaf cake.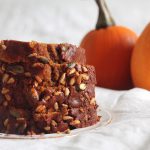 Print Recipe
Dairy Free Pumpkin Loaf Cake
Moist dairy-free pumpkin loaf cake
Ingredients
285

g

Pumpkin puree

80

g

Oil

140

g

Sugar

2

Eggs

180

g

Plain Flour

1

Tsp

Bicarbonate soda

1

Tsp

Cinnamon

1/2

Tsp

Nutmeg

1/2

Ginger

1/2

Tsp

Mixed Spice

1/2

Tsp

Ground Clover

Splash of oat milk/water

Pinch of salt

15

g

Mixed seeds
Instructions
Line a loaf tin with baking paper.

Pre heat oven to 180C/160 fan.

Grab your favourite mixing bowl and combine the pumpkin purée, eggs, oil and sugar.

Now it's time to add in the dry ingredients. Sift in the flour, bicarbonate of soda and spices. Don't forget to add a pinch of salt and if you fancy adding in any chocolate chips or walnuts then now would be a good time. On this occasion I'm keeping my pumpkin loaf plain.

Mix together with a spatula and if needed, add a splash of water or milk.

Pour into your lined loaf tin.

Top with seeds if desired. I like to use a slightly sweet mix of cinnamon seeds.

Pop into the oven for 55 minutes at 180C/160 Fan.

Remove once a stick comes out clean.

Slice, snap a photo to send to your friends and enjoy at any time of the day.