There are so many dairy free and vegan options on the market this Easter which I think is fantastic news.
We're finally seeing OPTIONS when it comes to those of us with intolerances to dairy, allergies and those who simply choose not to eat dairy.
I shared a thread over on Twitter with lots of dairy-free and vegan-friendly Easter egg options but I thought it would be good to share here on Dairy Free Daisy too. I think that next year we will be looking back at the plentiful dairy-free Easter options from this year and hopefully be rejoicing that we have even more for 2022.
I wasn't sure how to go about setting out this post but I think it's best to break it down by brands.
It goes without saying but PLEASE PLEASE always check full ingredients lists before buying anything. Ingredients can change, factories can change and it's important to ensure you're safe.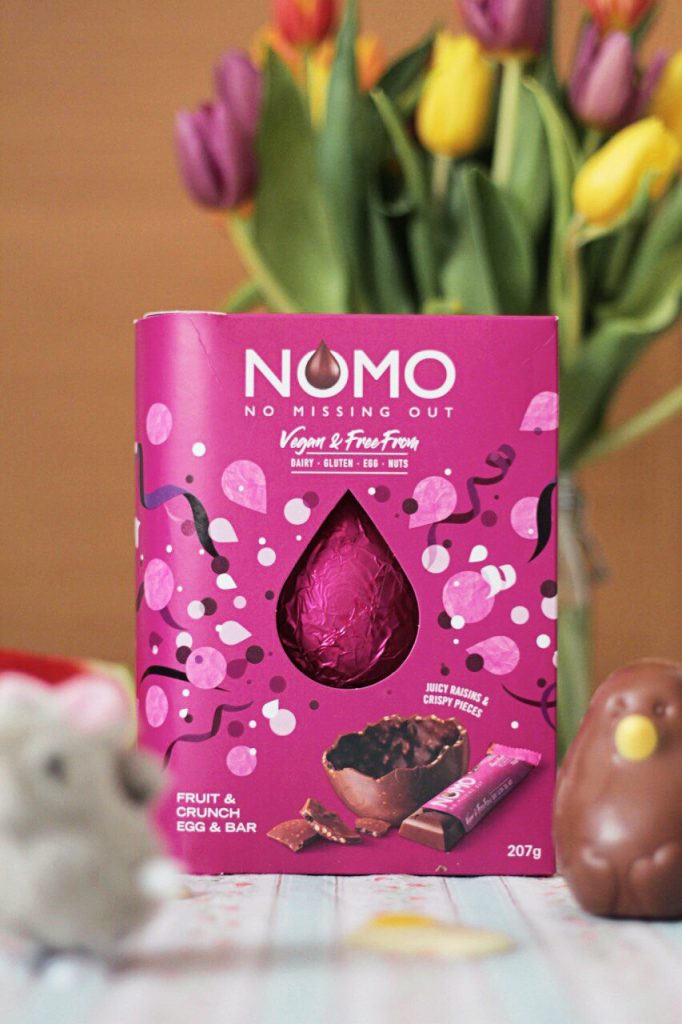 NOMO Easter Eggs
I love NOMO Easter eggs. The vegan chocolate of this egg is always delicious and the shells of the eggs are really thick and indulgent. I had the Fruit & Crunch flavour last year and would happily get it again. NOMO state that the eggs are suitable for dairy, egg, gluten, peanut and tree nut allergy sufferers. So if you can't have eggs with 'may contain' labels then these could be a good option for you.
NOMO have 5 eggs this year:
Fruit Crunch Choc Egg & Bar – This is their vegan chocolate filled with crunchy crispy pieces and raisins.
Nomo Caramel Egg & Caramel Chocolate Bar – This sounds so good! I love caramel but it's generally made with milk so to have a dairy-free option is excellent. This is a caramel flavoured egg and comes with a vegan caramel chocolate bar.
Creamy Choc Egg & Bar – This is their classic chocolate egg which is a lovely creamy vegan chocolate.
Hazelnot Crunch Choc Egg & Drops – New this year is their Great Taste Award Winner 2020 egg. It's a nut free hazelnut flavour egg with cocoa nibs and rice crispies for an added crunch.
Caramel Sea Salt Choc Egg & Bar – A creamy vegan chocolate egg with a lovely sweet caramel and good dash of sea salt flavour. I've had the bars of this egg before and they're delicious.
NOMO Easter eggs are really easy to get hold of. Here are just a few places you can find them:
ASDA – Tesco – Holland & Barrett – Sainsbury's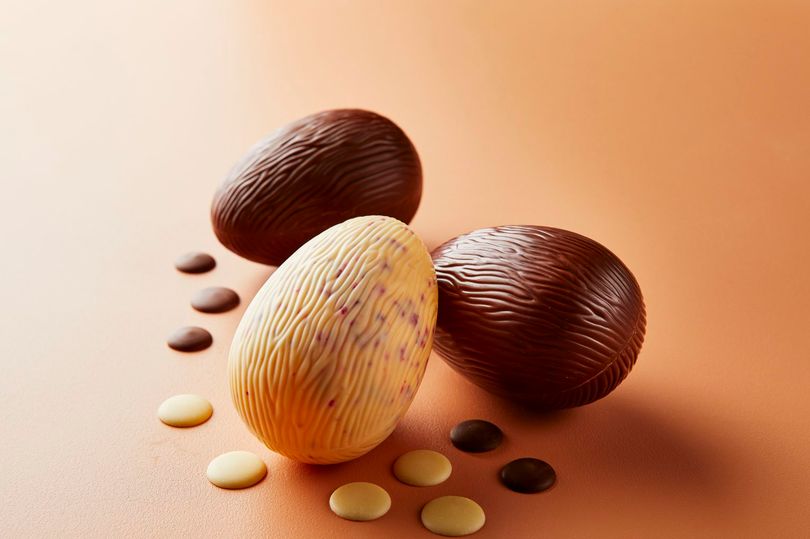 Vegan Easter Eggs at ALDI
This year ALDI have come through with their biggest collection of Easter eggs. They have 8 eggs to pick from with varying price points, good old Aldi!
They aren't sold online or at least right now they aren't, perhaps they sold out? However, they are in store but you better move quick.
You should be able to find Moo Free Easter eggs in your local Aldi store along with vegan options from Moser Roth (their own luxury chocolate brand) and their Dairyfine Free From range.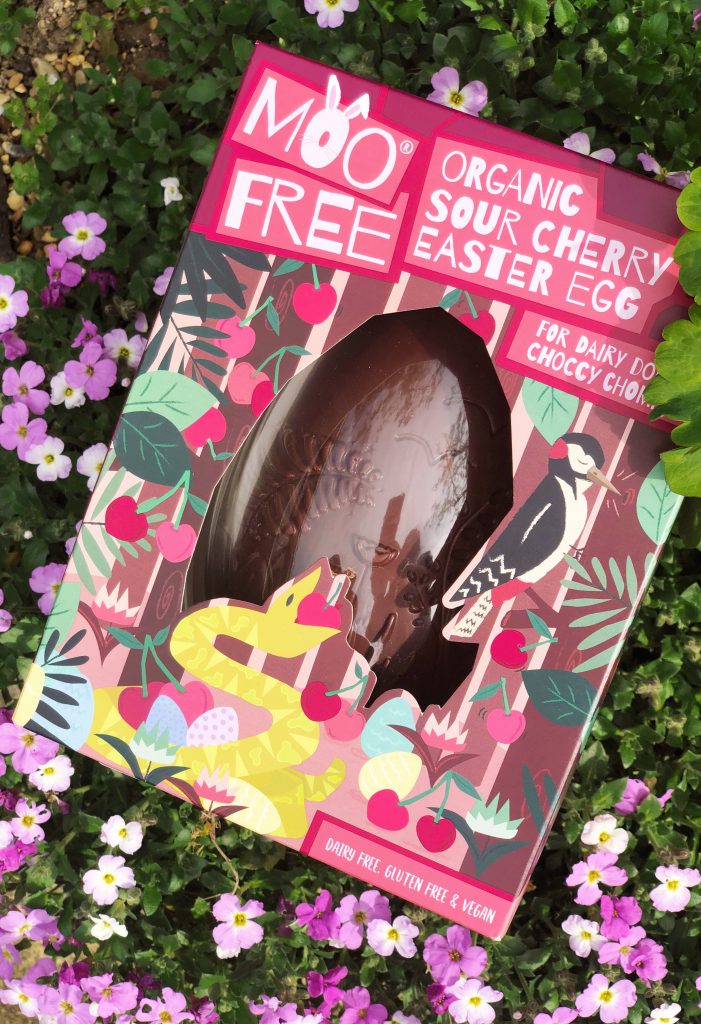 Moo Free Easter Eggs
Moo Free eggs are made in a free-from factory.
Things are selling fast now but over on the Moo Free website you can find the Organic Sour Cherry egg, which I have sitting on my kitchen table or the Organic Mint Choccy Egg which sounds so good. You can also find all the other eggs in their range at most supermarkets.
Organic Sour Cherry – This egg is new to their 2021 line-up. It's a vegan egg filled with sour cherry pieces.
Organic Mint Choccy Egg – This is another new addition to the Moo Free 2021 line-up. I love mint chocolate and I'm pretty close to ordering one of these now.
Moo Free Dairy Free Easter Bunnycomb – I always buy bars of this chocolate, it's so moreish. It has a lovely creamy flavour and the egg has pieces of their vegan-friendly honeycomb toffee in the shell.
Easter Choccy Eggsplosion Easter Egg – This egg is a vegan milk chocolate Easter egg with white cocoa drops and vegan marshmallows. It looks fab!
Original Easter Egg with Surprise – This is the Moo Free original chocolate egg which also comes with an extra chocolatey surprise.
Most of the Moo Free Easter eggs are sold out online but if you go in-store you should be able to get hold of them.
Moo Free website – Tesco – ASDA – Waitrose – Amazon: all Easter Eggs seem to be more expensive on Amazon at the mo but the deal for 2 Moo Free eggs works out well.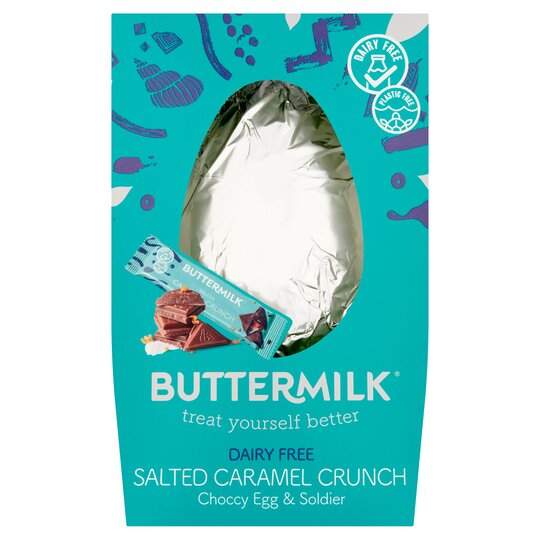 Buttermilk Easter Eggs
I haven't tried anything by Buttermilk before i'm really intrigued by the brand.
Buttermilk Dairy Free Salted Caramel Crunch Easter Egg – This sounds so good. This is a real thick and chunky egg. It's a caramel chocolate with sea salt and crunchy caramel flakes.

Buttermilk Dairy Free Crispy Berry Sundae – This is a thick white strawberry chocolate egg with real strawberry and crispy bits. YUM!
Once again, these are mostly sold out online but I've seen them in most local supermarkets.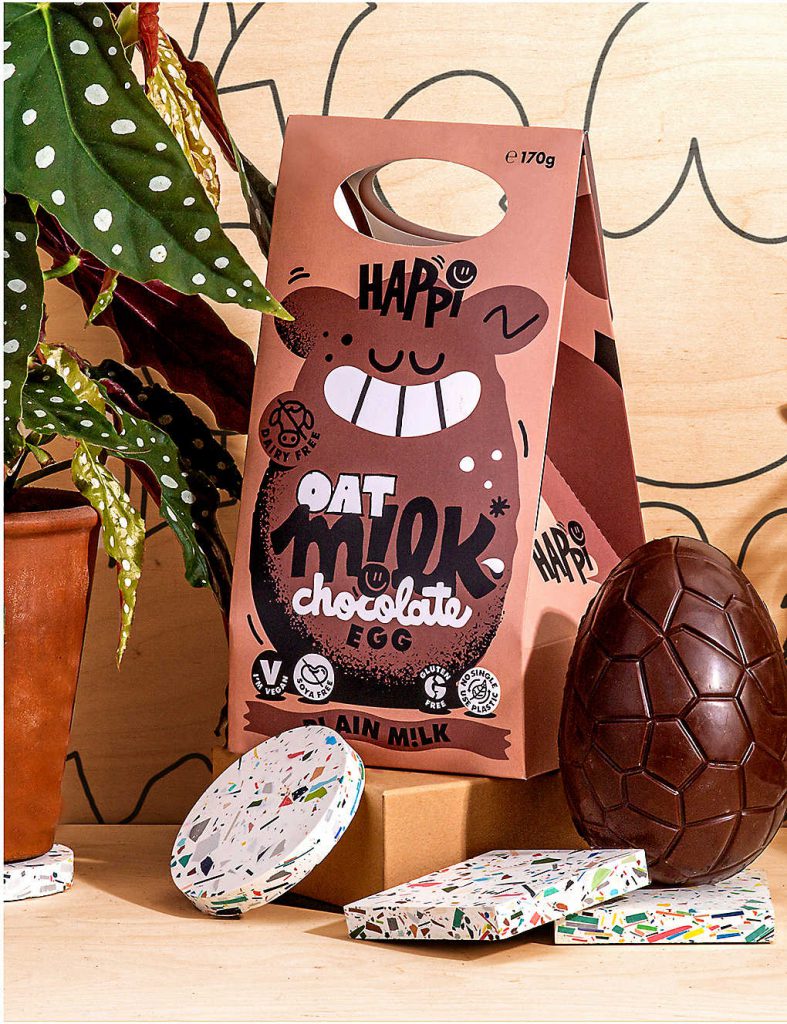 Happi
I keep seeing this egg popping up online but I hadn't heard of the brand before now. It only seems to be available in Selfridges at the moment.
Happi Oat M!lk Chocolate Easter egg – This is a smooth and creamy chocolate egg which is free from dairy, gluten and soya.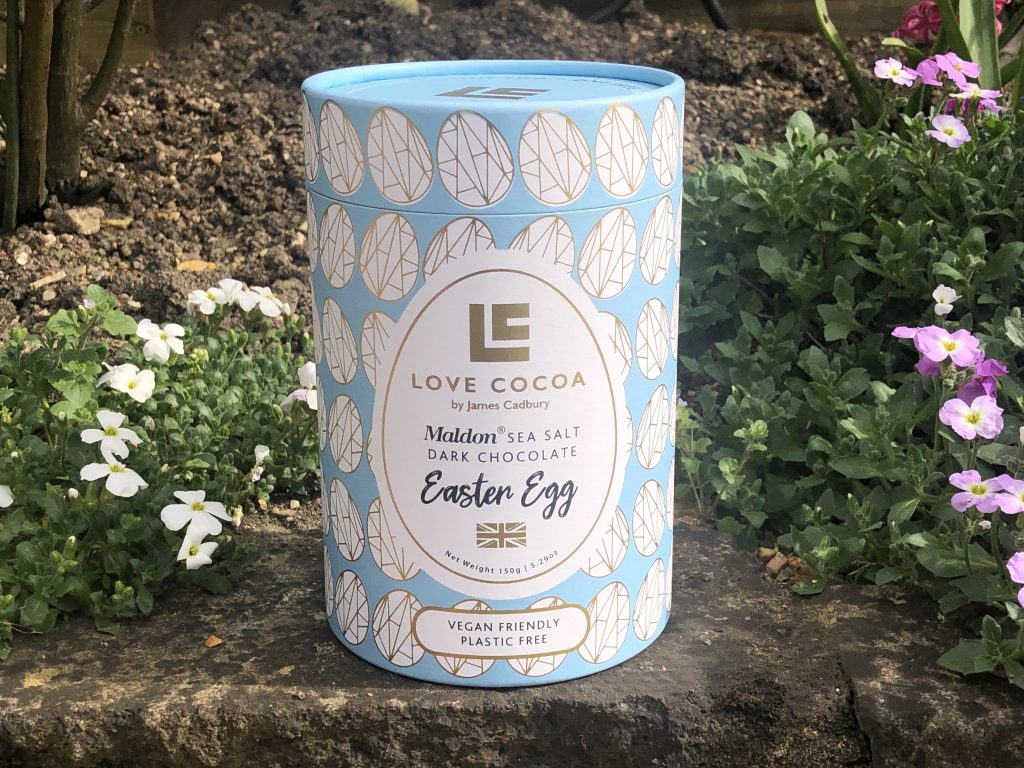 LOVE COCOA
This is a new and rather exciting brand which has been founded by James Cadbury who is the descendant of John Cadbury. I have one of these waiting for me on the shelf and I can't wait to try it.
Sea Salt Easter Egg VEGAN – The branding of this egg is beautiful, just look at the luxury box it comes in. This Easter Egg has really good reviews. It's a dark chocolate egg with crunchy Maldon Sea Salt flakes.
You can buy this on their website, Ocado or Anthropologie.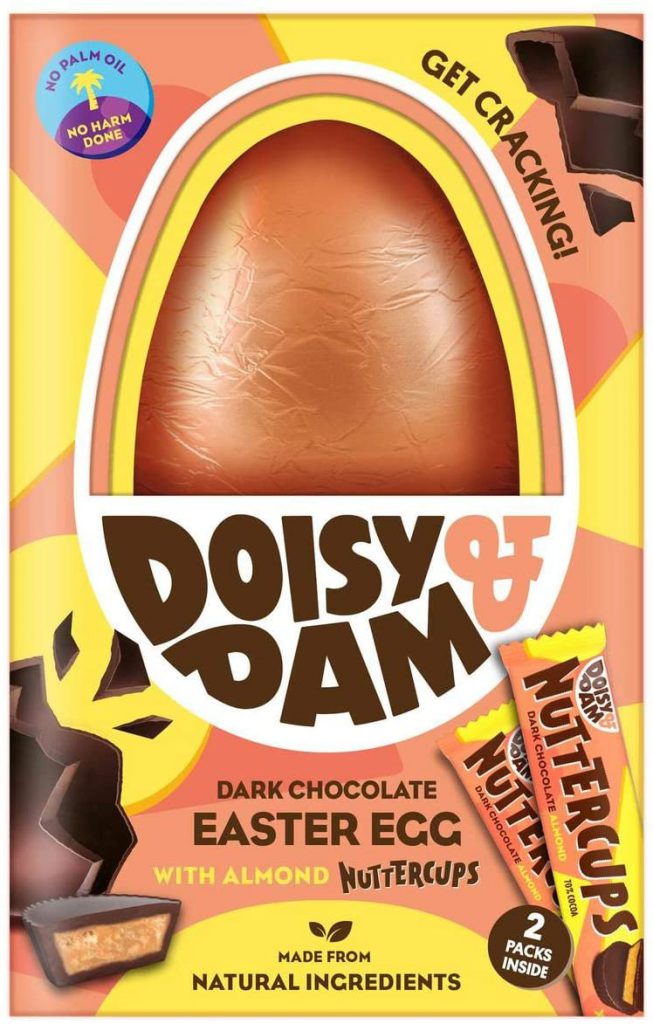 Doisy & Dam
I'm a massive fan of Doisy & Dam and used their cute little Mini Egg alternatives, Good Eggs in my dairy free Easter Rocky Road last week. Their products are vegan which makes them dairy-free but they are made in a facility that handles milk, gluten, nuts, peanuts and sesame. So it's always important to check ingredients list in regards to your allergies.
Doisy & Dam Almond Butter Cup Egg – This is a dark chocolate Easter egg with almond nuttercup bars. This sounds insanely good and I really hope I can still get hold of one in the supermarket.
It looks like it's still in stock online over at Jarrold.