I was planning to follow on from my Dairy-Free Easter Rocky Road recipe with another delicious dairy-free treat for you to make at home. Unfortunately, I've had shingles for the last week and although I'm finally getting a little energy back I'm still not my usual self. I'm actually sitting in bed as I type this post so I can get a little rest before my parents bring my little boy back home.

I've heard it can take a good few weeks to recover from shingles so with that in mind I thought I'd jump on here and share some of the new dairy-free products I've spotted in Tesco over the last week or so. Don't worry, I haven't been out for the last week, I've mostly been at home trying to get as much rest as possible. Some of the new in products were in-store a few weeks ago and others I've just spotted on the website today.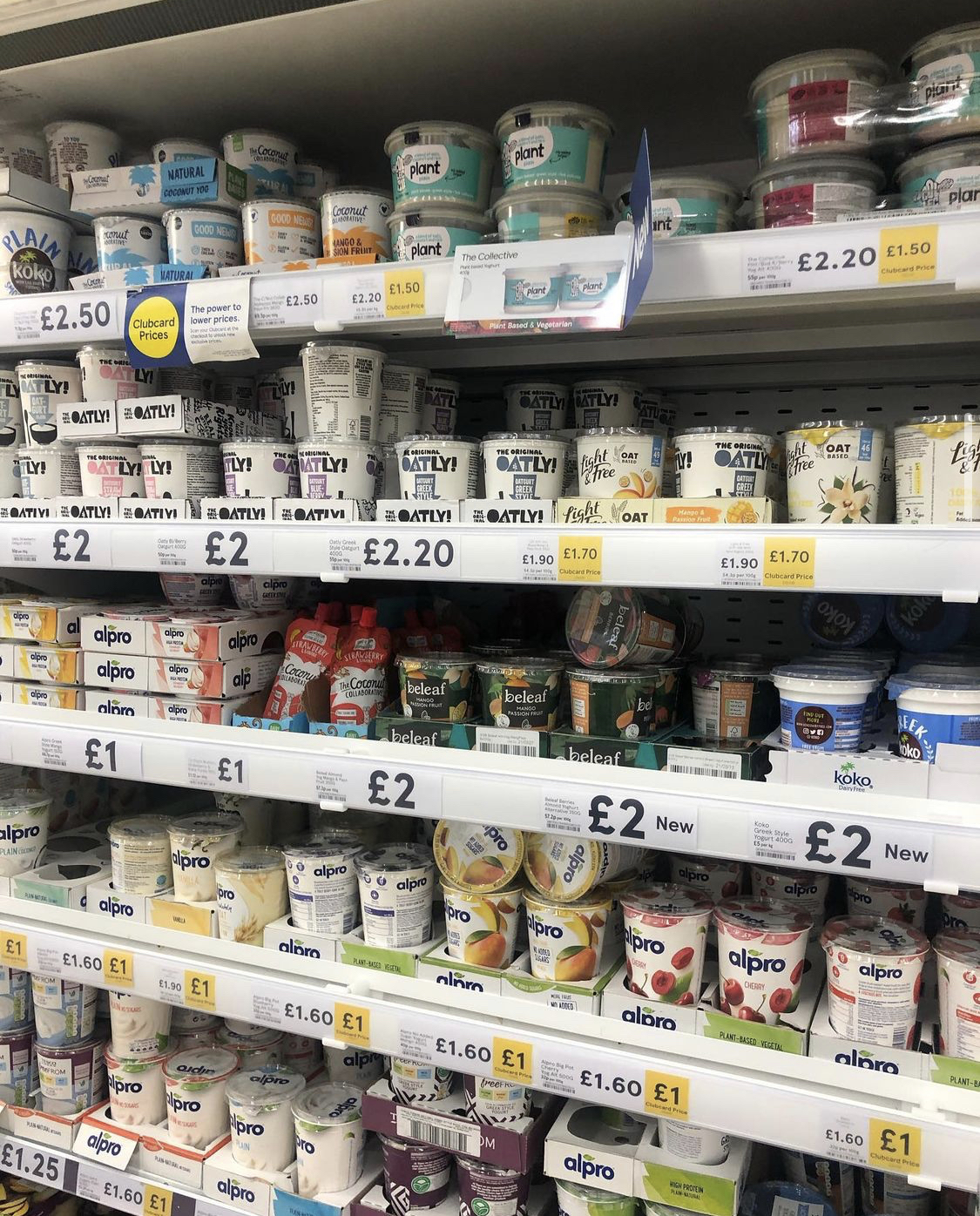 We never used to shop at Tesco when we lived in Sheffield as there wasn't a store near us. A couple of months ago we relocated to Cambridge and now have a massive Tesco just down the road. Seriously, it's such a massive store. Anyway, I had no idea what a fantastic dairy-free selection of food Tesco have. It's brilliant. It's not the best when in comes to shopping experiences, it can be a bit chaotic, but I don't think the current climate helps with that. However, if you're new to dairy-free life then it's an excellent place to browse for dairy-free products, lactose free options and vegan-friendly stuff.
7 new dairy-free finds in Tesco
As always, please check ingredients before buying and ensure they're suitable for you.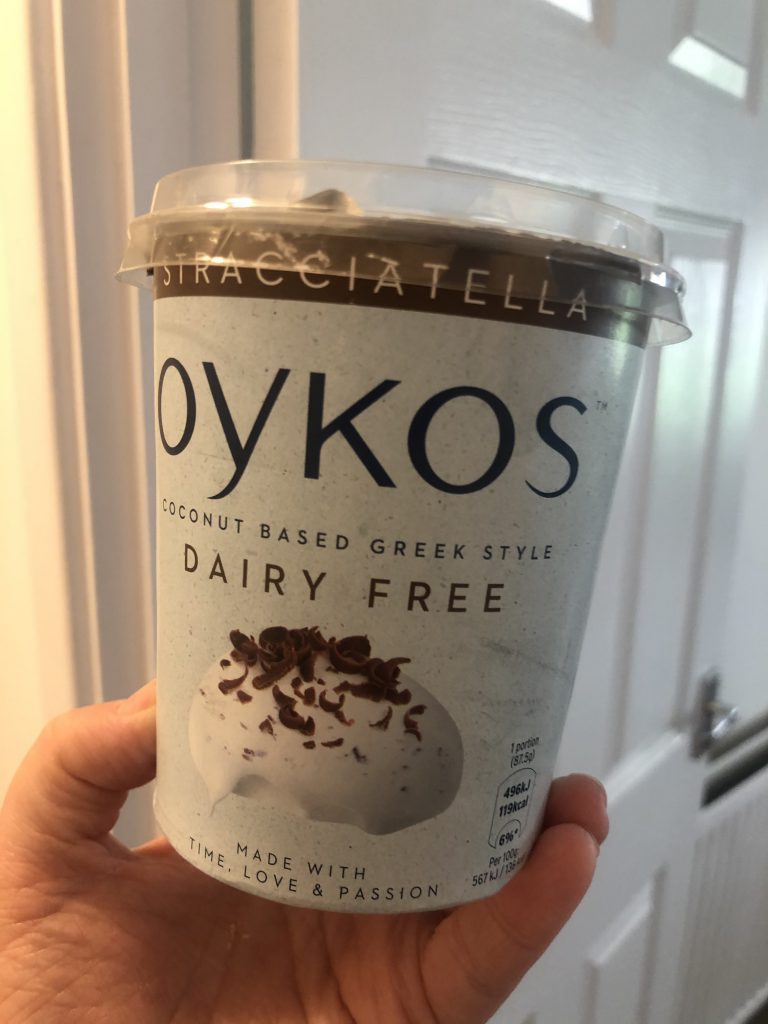 Oykos Dairy Free Stracciatella Chocolate – This is new to Tesco but not new to me as I buy it every now and then from Waitrose. I was pleased to find it in Tesco last week and currently have a pot sitting in my fridge. It's a lovely coconut yogurt which is much thicker than other brands. I also like that it isn't sickly sweet and has a slight tang to it. It's delicious and if you like stracciatella and coconut then you'll enjoy this.
Alpro No Bits Strawberry Banana Yogurt Alternative – Everyone in our house, dairy-free or not, loves the Alpro yogurts. I'm looking forward to giving these a try at some point. Strawberry and banana are always a winning flavour combo so I have a pretty good feeling about them. They're also available in Raspberry & Cranberry which sound right up my street.
Oatly Creamy Oat Spread Plain – This is something I'm really keen to try. I'm always on the look out for good dairy-free cream cheese alternatives. They're essential for our Saturday morning bagels and I'm always on the hunt for the best one to use in a cheesecake. Let me know if you've tried this or the other new flavour – Garlic & Cucumber.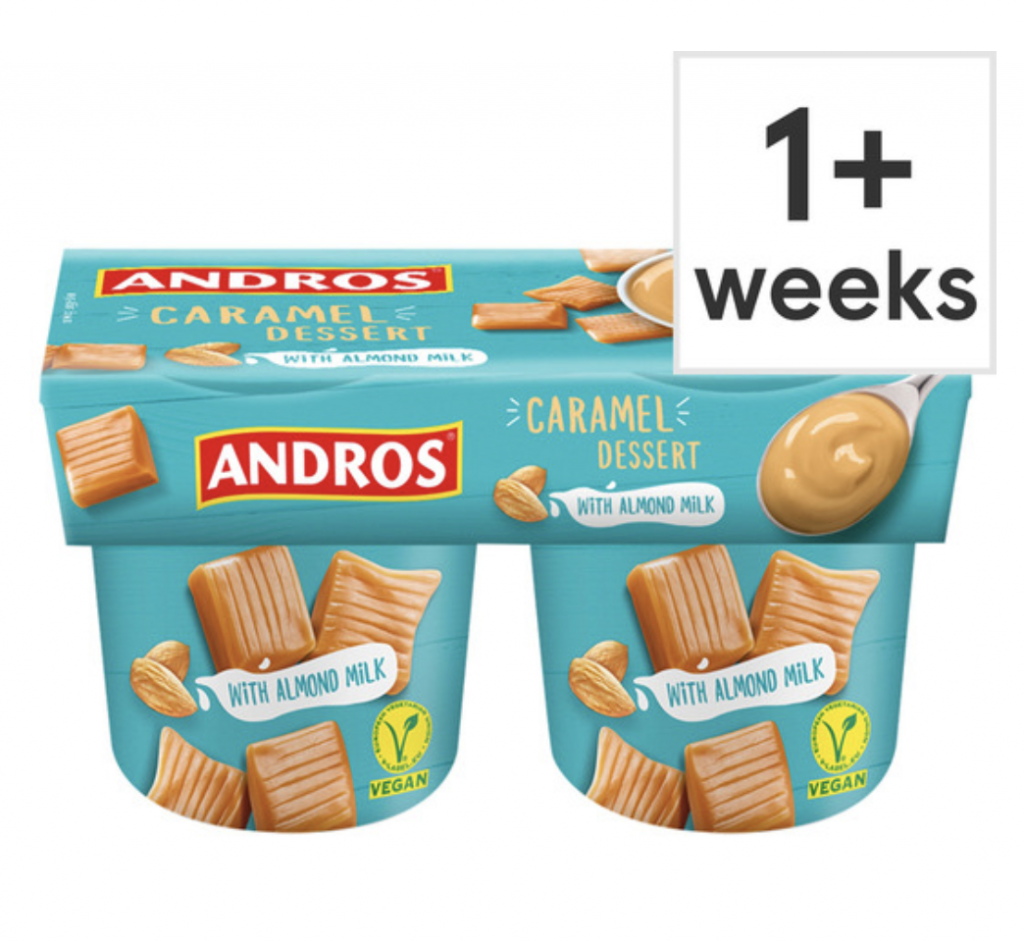 Andros Caramel Dessert With Almond Milk – I picked these up a few weeks back. I think the branding really pulled me in. If you're looking for a caramel dessert then this is what you need. The pots are quite generous in size and the dessert is super creamy and has a very strong and sweet caramel flavour.

I liked it but a pot between two of us was enough. We actually enjoyed using this in place of custard on a slice of Wicked birthday cake which we warmed up. Although they were nice they won't be a regular purchase for us but I would like to try the chocolate one at some point.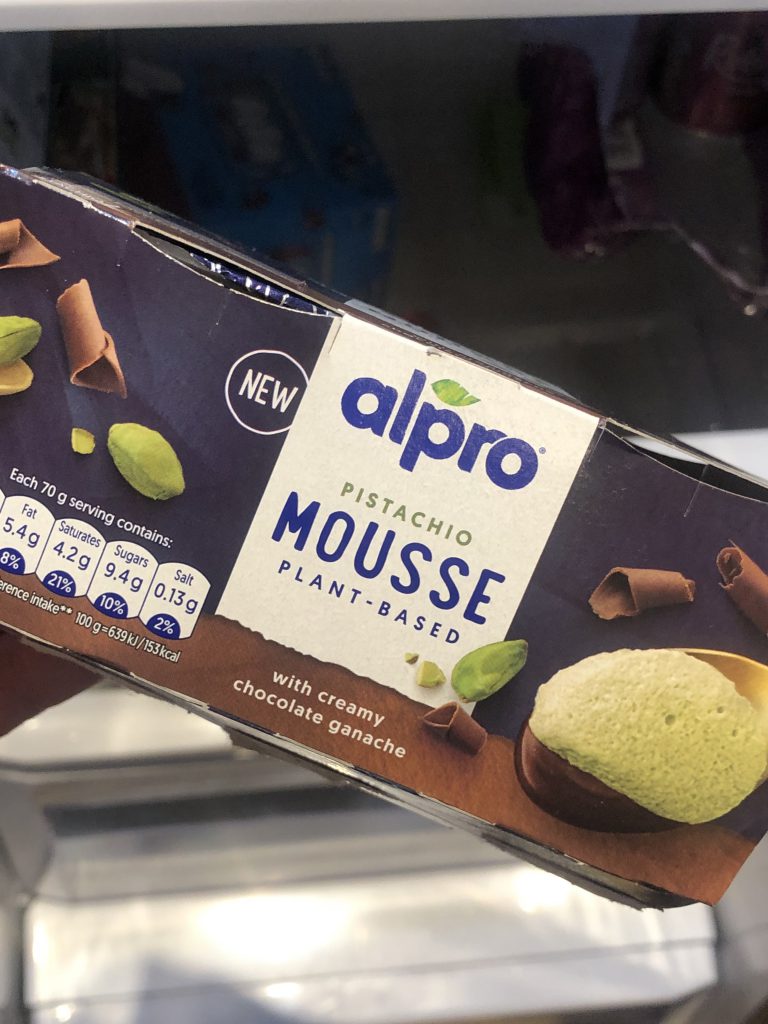 Alpro Pistachio Mousse Plant-Based Chocolate Dessert – I REALLY like these and we buy them quite regularly. The pistachio flavour its very subtle, a bit too subtle some may say and it could do with being a lot stronger BUT they're still nice. It's so good to finally have a mousse without having to make it at home, The texture of these are lovely and smooth and I'm keen to try the Double Choc flavour next.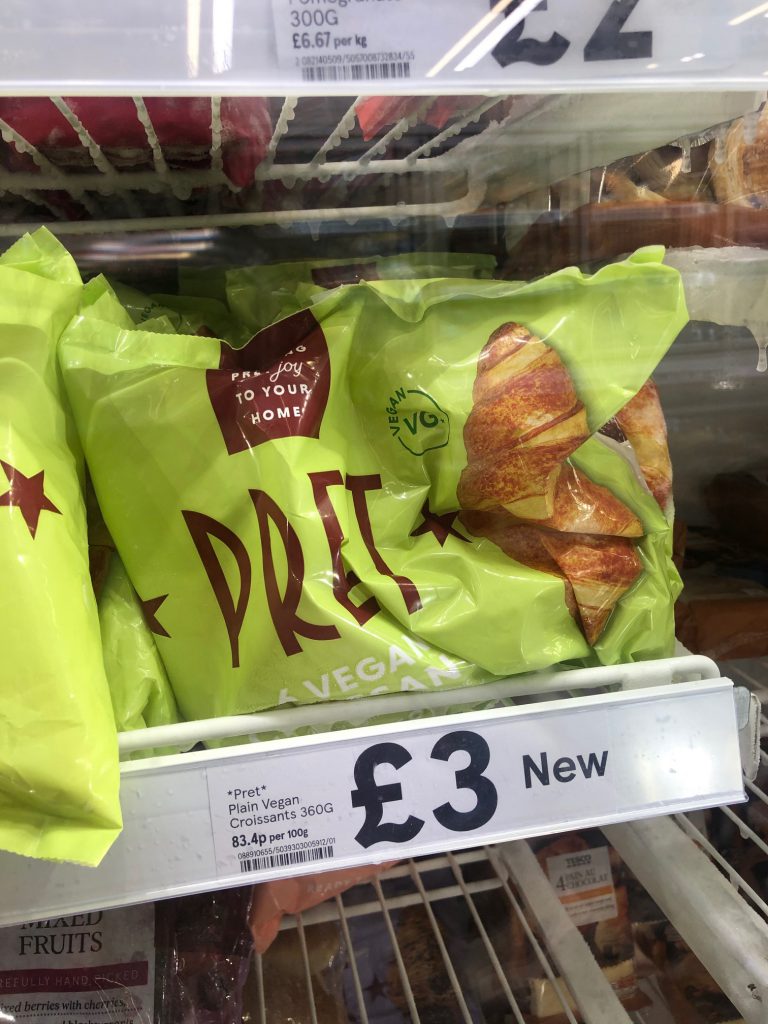 Pret Plain Vegan Croissants – To start, the packaging states that although they're made to a VEGAN recipe they're 'Not suitable for Nut, Sesame, Egg, Milk and Soya allergy sufferers'. If you have a severe allergy then please stay away from these and everyone else, ALWAYS ALWAYS check the ingredients.
I've decided to share these because they're something I'm looking forward to trying. I can't eat dairy due to my eczema but can have 'may contain' products. I'll be giving these a try in the coming weeks so keep an eye over on my IG if you want to see what they're like.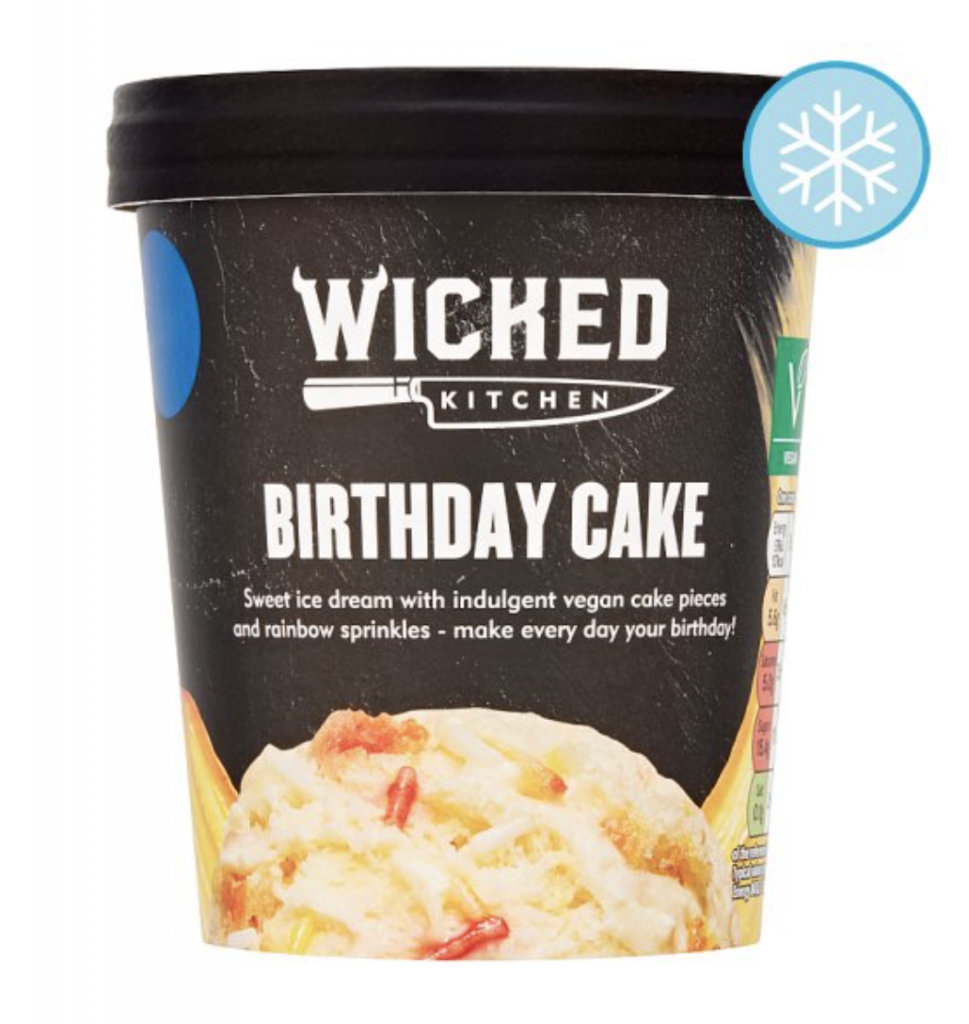 Wicked Kitchen Birthday Cake Ice Dream Treat – This is another product I can't wait to try. So far I've enjoyed everything I've tried from Wicked so I have high hopes for this. This is a dairy-free and vegan-friendly ice cream with a coconut oil base, sprinkles and pieces of cake inside. The reviews look pretty good so I can't wait to grab a pot to try.