This year there are SO MANY dairy free and vegan friendly advent calendars in the supermarkets and from independent businesses. There are classics from Moo Free and NOMO and then something a little different from KAKOA and Cocolibre.
All of the dairy free advent calendars I'm sharing with you today fall within a wide price point. Some are super affordable and others lean more towards the luxury chocolate end of the price point.
Right, let's dive straight into the list. I've added links to the titles of each advent calendar.
A quick but important diclaimer: Please check full ingredients lists and may contain warnings to ensure products are suitable for your intolerance or allergy.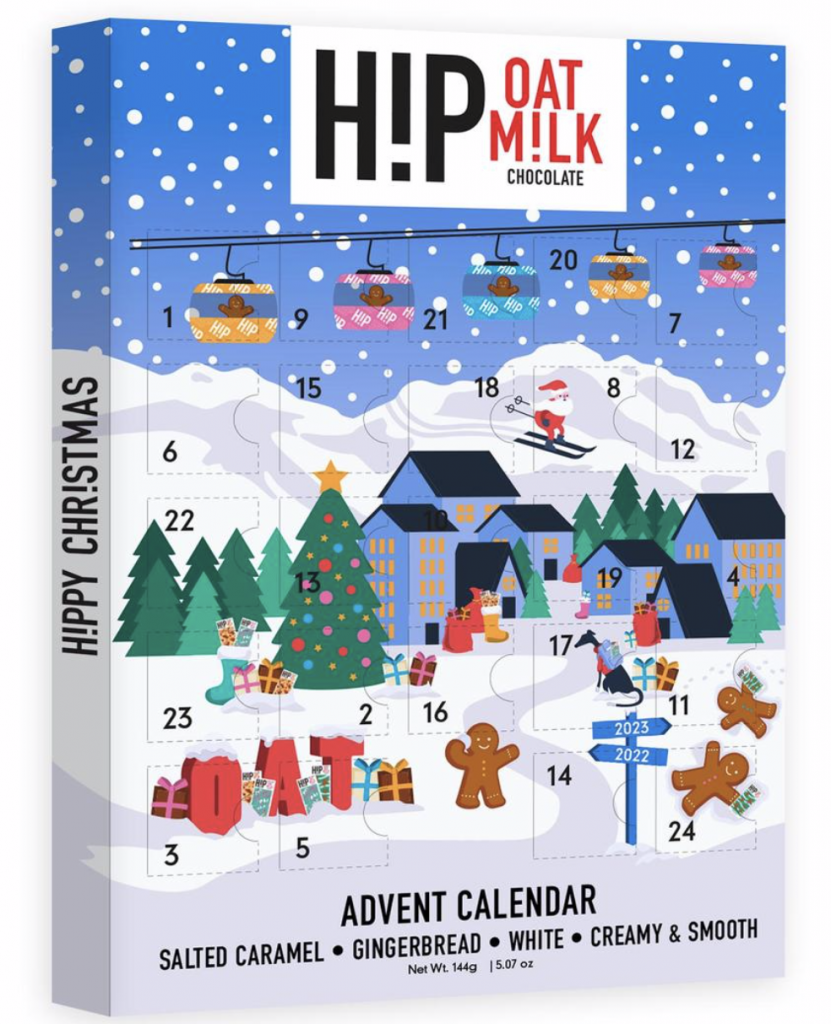 14 Dairy free advent calendars – 2022
Moo Free Dairy Free, Vegan 'Milk' Chocolate Advent Calendar – £3.59 – £4
If you've been dairy free for a while then you'll be familiar with Moo Free. They have a good range of dairy free chocolates available throughout the year and always launch fun and tasty special options at Christmas.
This advent calendar is filled with dairy-free and vegan 'milk' chocolate with fun shapes behind each door. You can find this calendar at lots of places such as their own website, Ocado, WHSmith and more.
H!P Oat Milk Chocolate Vegan Advent Calendar – £8
This super cute calendar is by H!P and includes 4 flavours from their oat m!lk chocolate range; smooth and creamy, slated caramel, white and gingerbread.
You can find this H!P advent calendar on Ocado, Amazon and their own website. I've also spotted it locally at small independent shops so do shop around.
NOMO Premium Caramel Advent Calendar – £8
NOMO have quite a few advent calendar options out this year. This is their caramel option. It's filled with 24 caramel pieces and a caramel chocolate bar.
This NOMO advent calendar is available own the NOMO website, Ocado and Amazon.
M&S Made Without Advent Calendar 70g – £3
This is the M&S Made Without advent calendar. The chocolates are free from gluten, wheat, dairy, and eggs.
This advent calendar can be found in-store at M&S or on Ocado.
Monty Bojangles Vegan Advent Calendar – £12
I love the Monty Bojangles brand so an advent calendar filled with their moreish truffles is right up my street. The 3 flavours of truffles included are; Cocoa Nib Nights, Cocoberry Blush, Caramel Haze.
Divine Dark Chocolate Advent Calendar – £5
This advent calendar is filled with dark chocolate hearts behind each door as well as an interesting world fact.
You can buy this advent calendar on Ocado and in some Oxfam charity shops.
NOMO Advent Calendar – £5
Here we have another NOMO advent calendar. This one is filled with creamy chocolate drops and caramel and sea salt drops.
I've seen this one in quite a few a few supermarkets. It's currently on Ocado, Morrisons, Sainsbury's, Tesco and Waitrose.
Moo Free White Chocolate Advent Calendar – £2.99
This is a second option from Moo Free filled with white chocolate.
This advent calendar is available at WHSmith, Ocado, Healthy Supplies and their own website.
KAKOA Iconic Vegan Chocolate Advent Calendar – £24.99
I'd never heard about KAKOA 'til a couple of weeks ago and now I can't wait to make an order. The business was founded in 2019 and since turning vegan the founders saw a gap in the market when it comes to premium vegan chocolate. They use rice and oat milk to create their chocolates.
This advent calendar is filled with luxurious vegan chocolate. There are 19 different premium chocolate flavours hidden behind 24 doors.
The KOKOA advent calendar is available direct from the website.
Hotel Chocolat 45% Nutmilk Chocolate Advent Calendar – £13
Hotel Chocolat have a pretty good range of dairy free and vegan chocolates. This calendar is filled with 24 nutmilk chocolates with 45% cacao and finely milled hazelnuts in place of milk.
Buy on the Hotel Chocolat website.
Unbelievably Vegan* Up To Snow Good Advent – £8.50
Another option from Hotel Chocolat. The Up to Snow Good Advent Calendar has cute branding making it perfect for littles and not so littles. Behind each of the 24 doors is an adorable Nutmilk character and an extra-big chocolate for Christmas Eve.
Buy on the Hotel Chocolat website.
Cocolibre Luxury Rice Milk Advent Calendar £15.00
I've been a big fan of this independent chocolate brand for many years. I think I first came across them at the Allergy Show in Liverpool.
This is another luxury advent calendar filled with 24 festive rice milk chocolate shapes.
Buy on the Cocolibre website.
Joe & Seph's Gourmet Popcorn Vegan Advent Calendar – £15
For something a little different there's Joe & Seph's Popcorn advent calendar. I think this would make a fun gift for someone who loves popcorn or who simply isn't fussed about chocolate.
This popcorn filled advent calendar has 24 bags of 8 different vegan flavours of popcorn. The flavours include; Salted Caramel Popcorn, Toffee Apple & Cinnamon Popcorn, Coconut & Cacao Popcorn, Salted Maple, Olive Oil, Black Pepper and Sea Salt Popcorn, Orange Chocolate Popcorn, Dark Chocolate Popcorn, Strawberry Caramel Popcorn.
Buy on the Boots website.
Finally we have the Candy Kittens advent called which is filled with vegan sweets.