There are still a few days left to grab the fun limited edition Bubbletastic Frappuccino from Starbucks. I believe the drink is running 'til 17/04/21 so don't waste any time if you fancy giving it a try.
It's exactly what you think it is, a bubblegum flavoured frap made with milk, whipped cream and popping candy.
FYI – My photo shows the frap with popping candy but they actually have milk in so DON'T get the popping candy. I didn't realise mine had them on 'til we'd left.
Is the Bubbletastic Frappuccino good?
It's a big yes from me.
I thought the frappuccino was delicious. It tastes just as you'd imagine, like a bubblegum milkshake but not as sweet and sickly as you might imagine. I'd even go as far as asking for a little extra bubblegum powder. I got a small frap but if I manage to pop by for another one I'll go for a grande. Why not?
I don't often get a milkshake so this was a nice a change. It was fun to be able to get involved with a new novelty drink from Starbucks, us dairy-free folk don't always get to be involved. Thankfully things seem to be changing and there are more and more dairy-free and vegan options popping up on the market.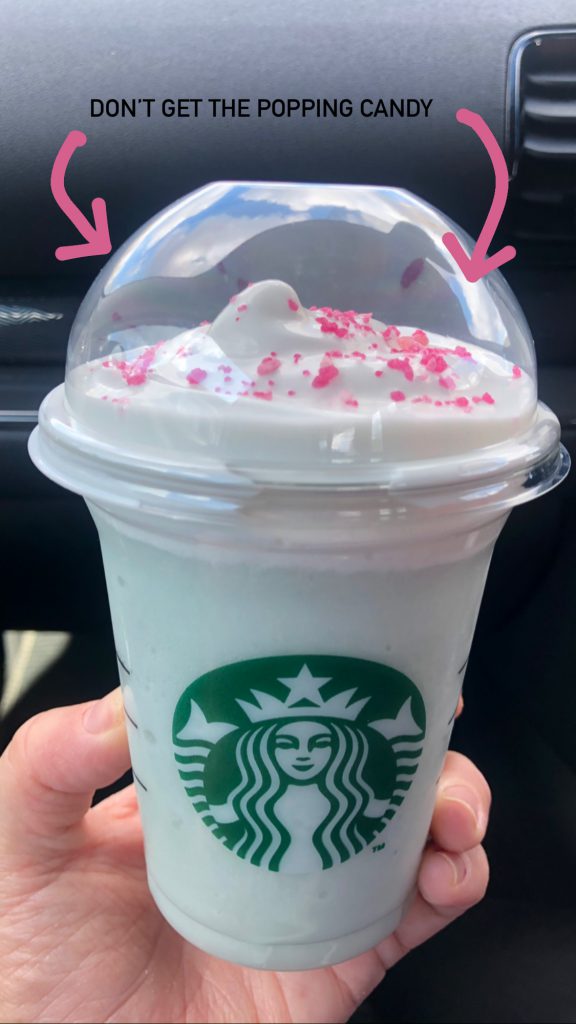 How to make the Bubbletastic Frappuccino DAIRY FREE
So, to make your bubblegum frappuccino DAIRY FREE you need to:
Switch out the milk for a milk alternative.

Ask for the non-dairy whip

Make sure they don't add the popping candy on top of your drink
I went with the almond milk because they'd run out of oat, non-dairy whipped cream but I totally forgot to mention about the popping candy so mine came with that. To be specific, my mum had kindly popped into the shop to grab one for me and it wasn't 'til we'd set off in the car that I realise they'd put popping candy on. It's worth mentioning this because firstly, some of you may simple not be able to tolerate the popping candy contaminating your drink. Plus, if you're asking for all dairy-free options then you'd hope that the barista would know that the popping candy has milk in.
I simply avoided drinking the popping candy which was easy enough on this occasion. However, if you are particularly sensitive to milk or are vegan and just don't want them on your drink please remember to mention to the barista making your drink. I know I will next time. It's always better to double check that they know not to add them.
Milk alternatives at Starbucks
Almond Milk
Coconut Milk
Soy Milk
Oat milk.