My mum has been making this delicious Leek, Onion & Potato soup for years. It's one of her go to recipes during the winter.
Jump to Recipe
This week I discovered a few leeks and potatoes hiding in the back of the fridge and cupboard. So, with the aim to use up the food in the house before going shopping again I thought I'd make a batch of this tasty soup. It's also really good to store in the freezer for a chilly day or a day when you need an extra quick and easy meal.
I need to grab some photos of this soup but I wanted to get this post written up and shared. There's a little snap of the soup below and you can also see the process of making the soup in the Tiktok video I've embedded into this post. I'll be back with more photos.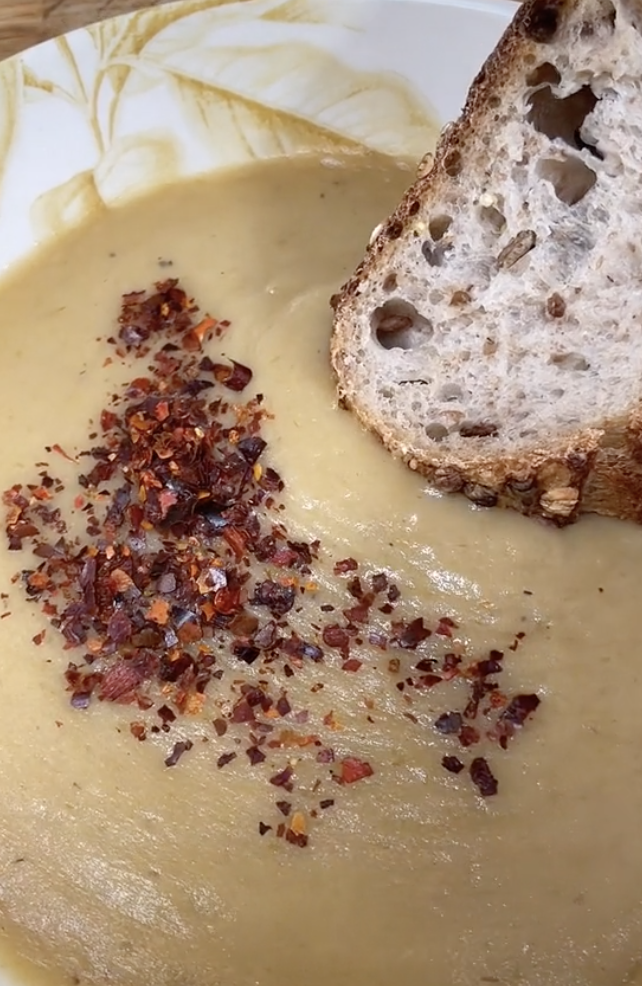 The recipe comes from a Delia Smith cookbook, the black one I believe but it's also online here. I use slightly different measurements depending on what I have at home but also to make the soup to my taste.
In terms of making this recipe dairy free I like to use Naturli Block as an alternative to butter and oat milk in place of regular milk. This time I used the Tesco oat milk but any would work. As always, use your favourite dairy free products. I also recommend adding lots of chilli when making the soup but I don't include this in the recipe because my toddler now enjoys the soup too so I just add the chilli in per serving.
Dairy Free Leek, Onion & Potato Soup
Leek, Potato & Onion Soup
Ingredients
50

g

Naturli Butter

1

Onion diced

4

Leeks chopped

2

Large potatoes diced

800

g

Veg Stock

200

ml

Oat Milk

Salt

Peppper

Chilli flakes – optional
Instructions
Trim and chop the leeks before washing them thoroughly.

Peel the potatoes and chop/dice.

In a large pan on a low heat melt the butter and then add in the leeks, onion and potatoes. Mix everything together. I usually add a little extra butter on top to make sure everything is covered.

Season with salt and pepper and leave everything to sweat for 15 minutes on a low heat.

Add the stock and milk to the pan and leave for around 20 minutes. Check everything is soft to ensure it's ready.

Leave everything to cool and then blend. I use a hand blender to do this.

Try your soup and add any extra seasoning.

Gently reheat on the hob or in the microwave. Add chilli flakes (I do this per bowl as my toddler also enjoys this soups) and a slice of your favourite bread and enjoy.