We're finally in the spooky month of October and I've been delighted to see lots of options when it comes to free from and vegan Halloween chocolate. It makes a change from only have sweets and lollipops to pick from.
As always please check and double check that the ingredients of the products mentioned to ensure they're suitable for you.
There are lots of regular dairy-free chocolates available which can be used during Halloween but if you're anything like me then you'll love something with Halloween branding. There are also lots of sweets and marshmallows which fall into the dairy-free category but today we're all about the chocolate.
Tesco
First up we have 3 Halloween themed chocolate finds at Tesco. Tesco's own Free From brand have Spooky Coins as well as a dairy-free favourite, Moo Free with their Spooky Chums range and a Mini Boo bar. You should be able to find the Moo Free products on their site and at other supermarkets too.
We have a Tesco very close to where we live so I've grabbed a bag of chocolate coins and the Boo Bar to try. Keep an eye over on my Tiktok to see what I thought of them.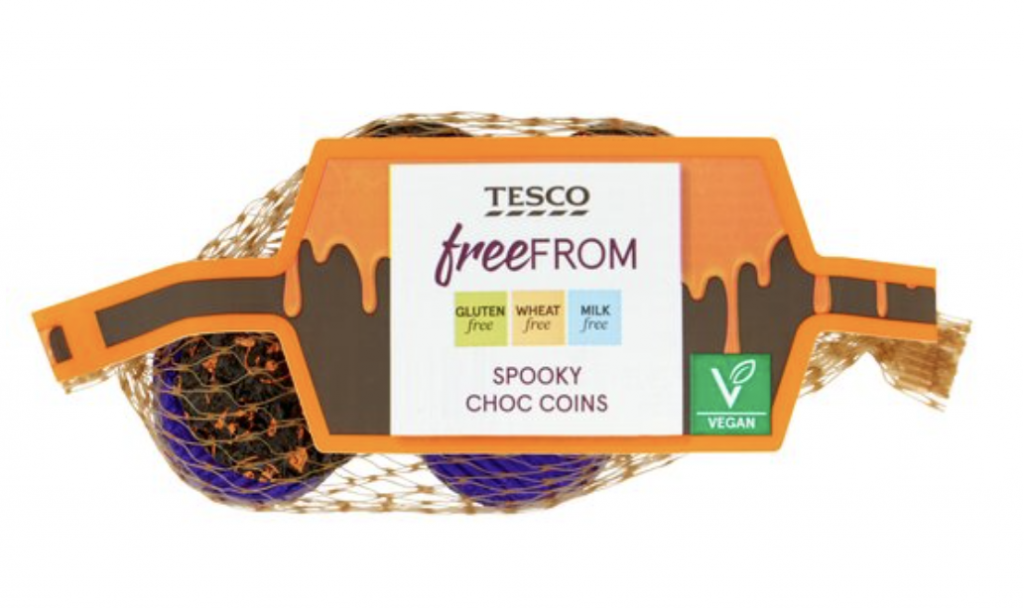 Tesco Free From Spooky Chocolate Coins – Who doesn't love a chocolate coin? These are Halloween themed and perfect to give out at parties and to trick-or-treaters.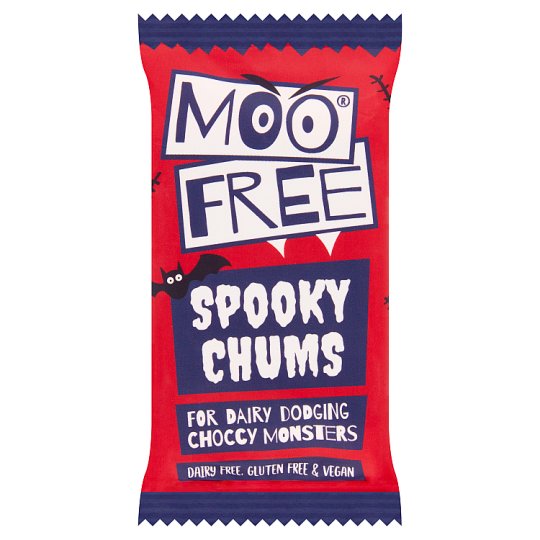 Moo Free Spooky Chums – These are a rectangle of chocolate with a cute Halloween inspired character on the front. If these are anything like the Choccy Chums then I'm sure they'll be delicious.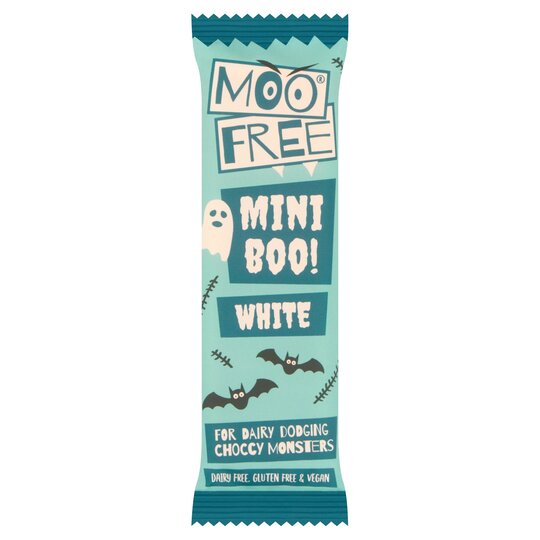 Moo Free Mini Boo White Chocolate – Here's one for the dairy free white chocolate fans out there.
ASDA
I haven't been to an ASDA recently but it looks like they have a fab selection of Free From and Vegan Society approved chocolate for Halloween from their in-house Free From range.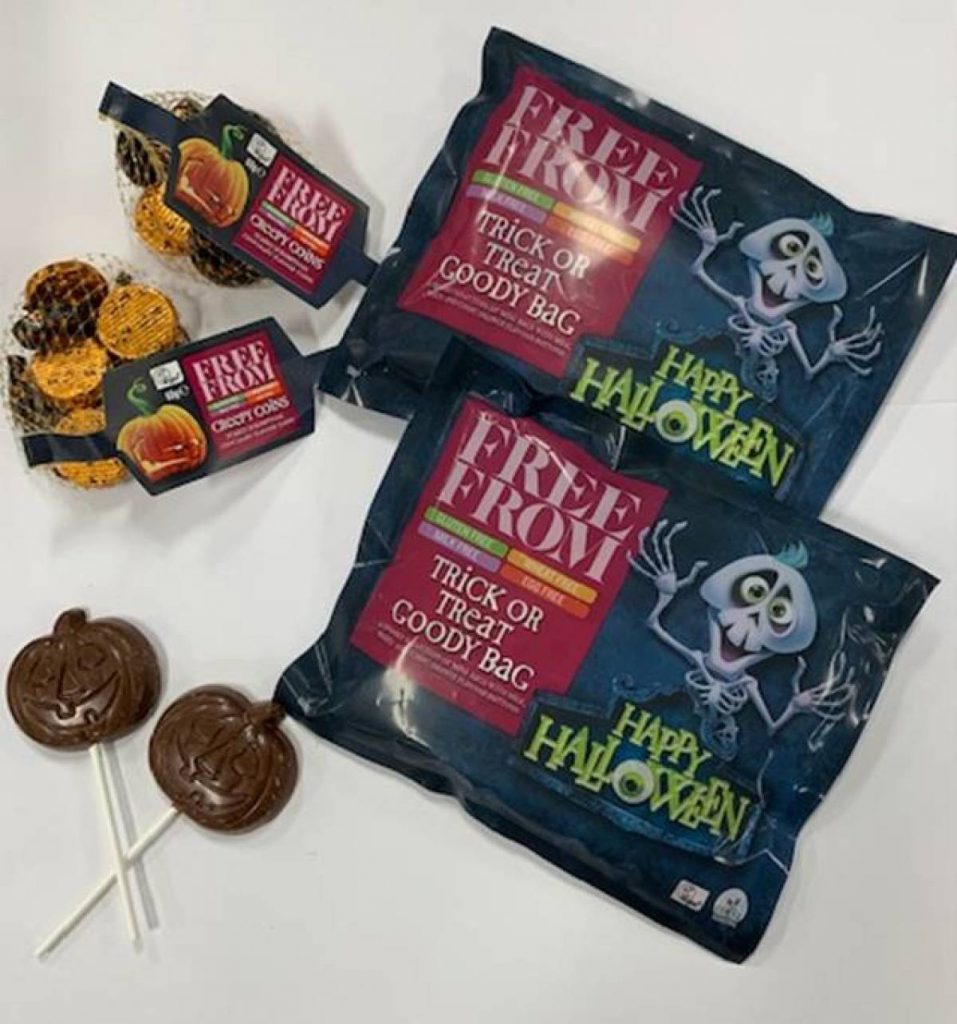 Free From Milk Choc Creepy Coins – Chocolate coins with a creepy twist. Something makes me think that most supermarkets will be offering their own version of these.
Free From Trick or Treat Goody Bag – This looks fun and makes it easy for free from families to get a variety of chocolate treats ready to go. The bag includes milk chocolate, white chocolate and chocolate orange button mini bags.
Free From Milk Choc Pumpkin lolly – I couldn't find this online so if you spot it in store it's probably best to buy it there and then as it seems they're likely to sell out.
Hotel Chocolat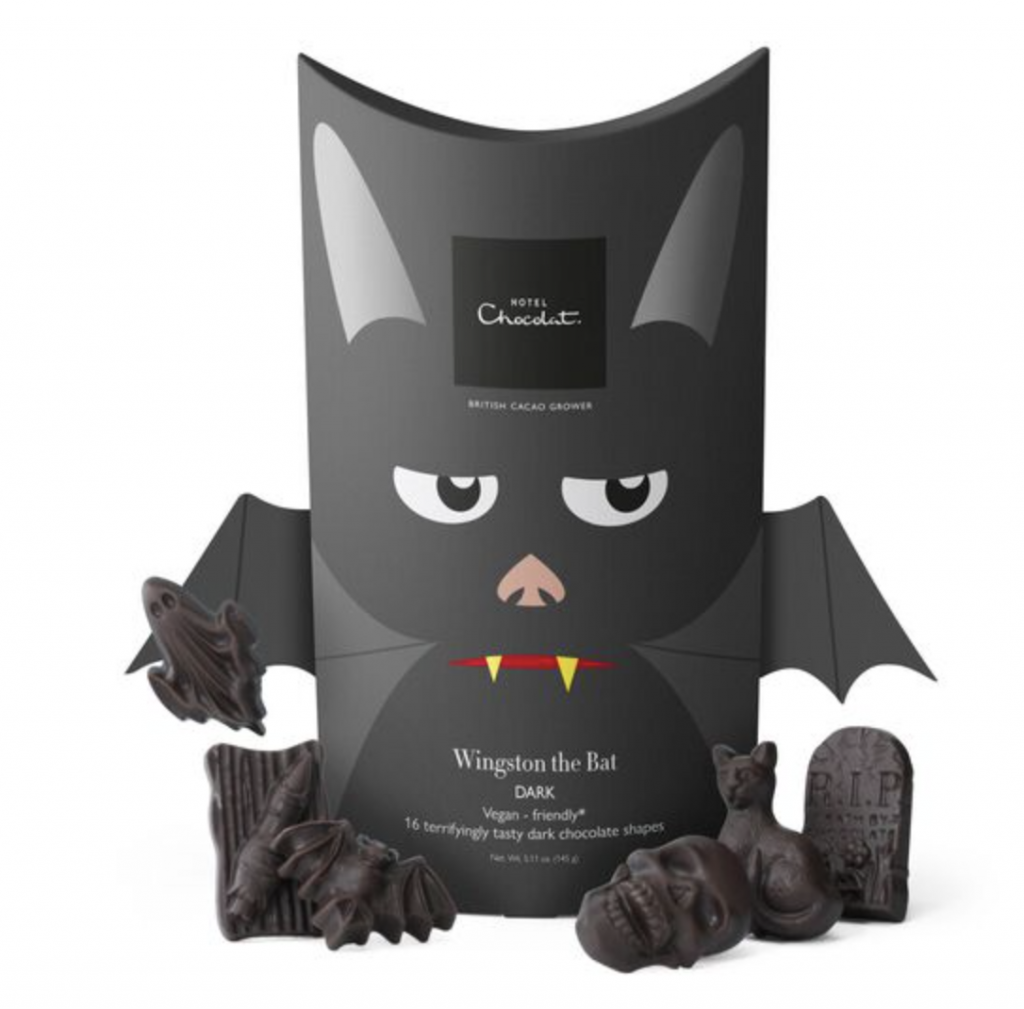 Wingston the Bat | Dark Chocolate – This looks like a very fun box of Halloween themed chocolates from Hotel Chocolat.
While these are free from dairy they're still made in the same environment as the Hotel Chocolat milk chocolate so they can not guarantee it is free from milk. It's always important to check for may contain labels like this and check in accordance of your allergy.
Independent brands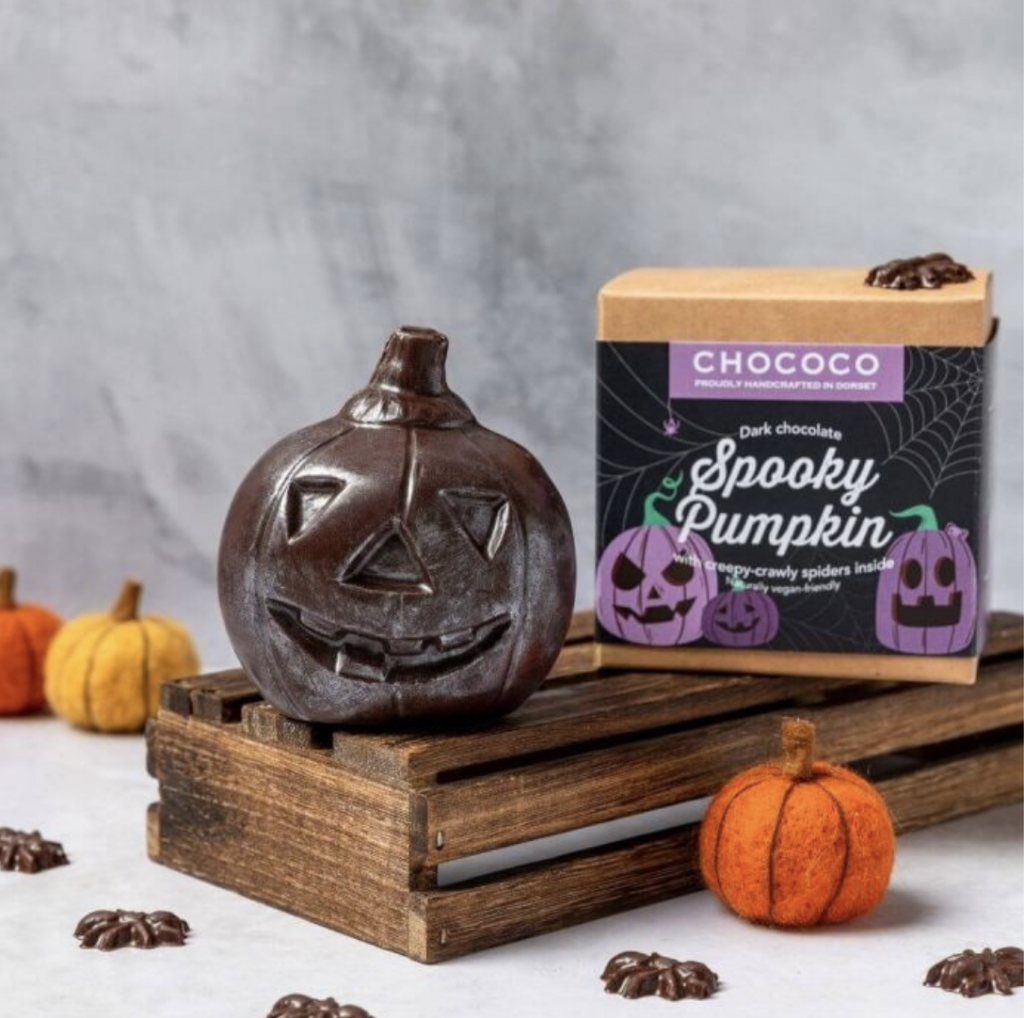 Dark Chocolate Shimmer Pumpkin & Spiders –
Dorest based Chococo have few vegan option for Halloween.
This is such a cute little pumpkin and perfect if you want to treat someone or yourself to something a little more special this Halloween. It's a dark chocolate pumpkin filled with little chocolate spiders.
This is VEGAN FRIENDLY but comes with a may contain warning as the chocolate is made in the same kitchen that handles milk, nuts and gluten.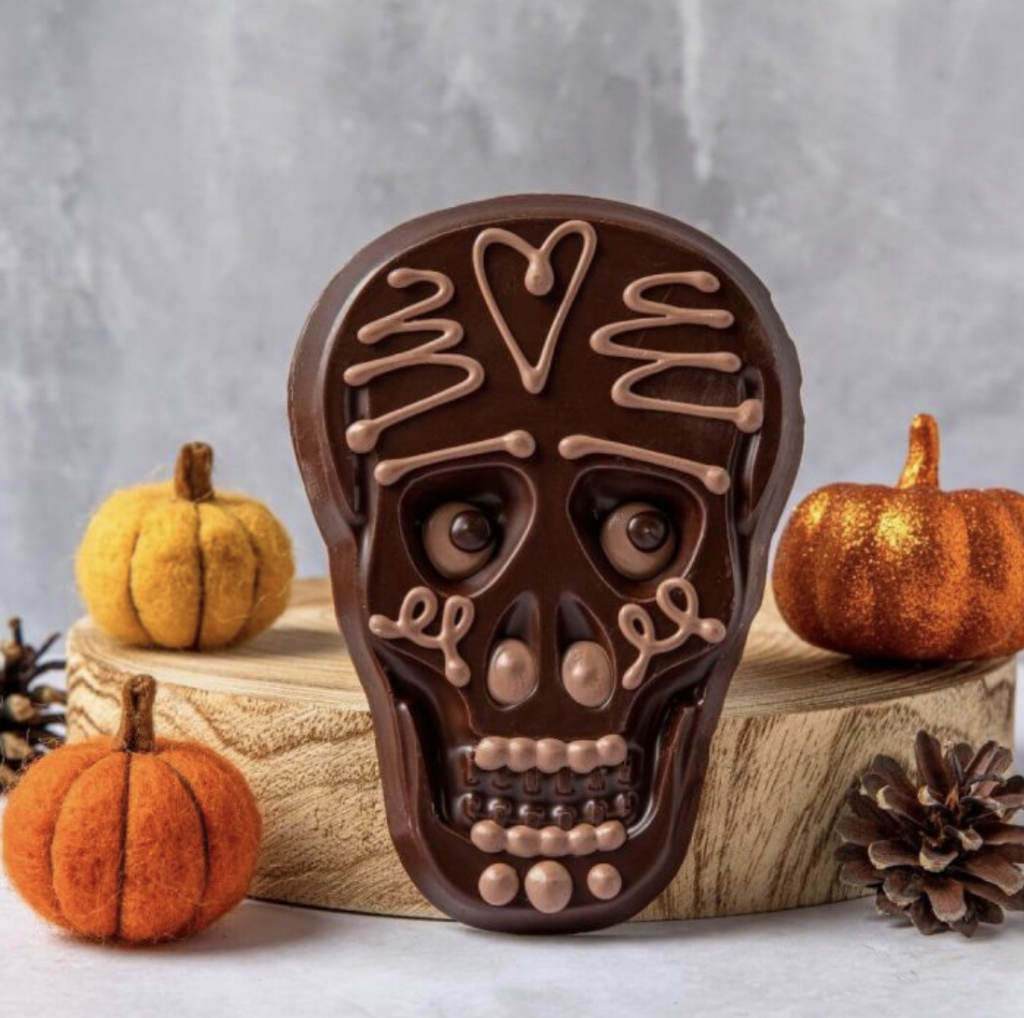 Rosa the Dark Chocolate Skull Bar
This skull is a work of art and I'm very tempted to order something from Chococo for myself this year. Why not?
Like the pumpkin above, this is naturally vegan friendly but it does come with a may contain warning as the chocolate is made in the same kitchen that handles milk, nuts and gluten.