Everywhere I look there are new dairy free products hitting the shelves and it's only going to increase over the next couple of months and the run-up to Christmas. Today I'm sharing some of those new and recent launches across various supermarkets. I wanted to highlight a range of products so you'll find ready meals, chocolate bars, truffles, houmous and more.
Let me know if you've tried any of these products. I'll be trying to track a few of them down today.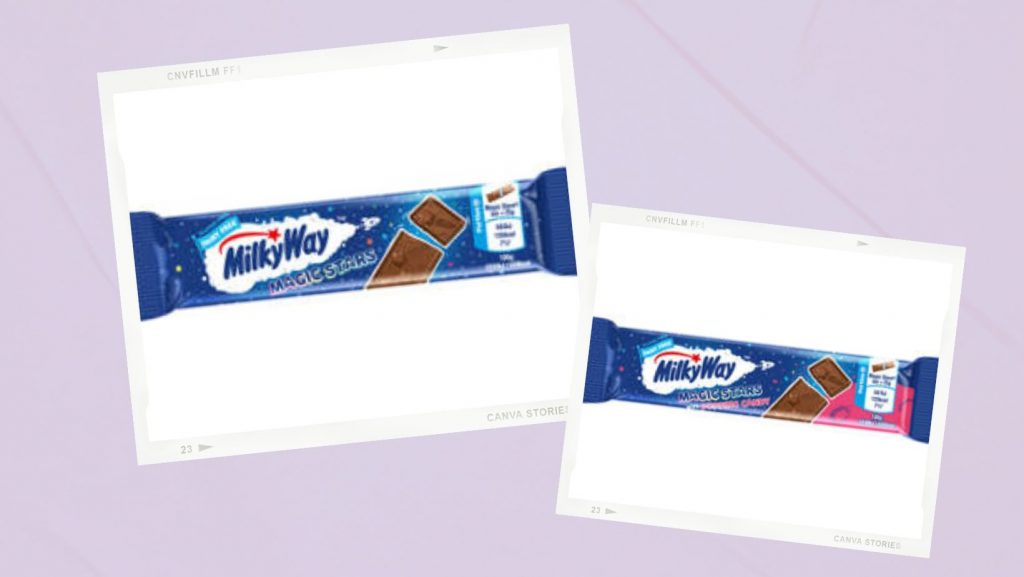 I'm particularly excited bout the launch of these Milky Way Magic Stars. Magic Stars used to be one of my favourite chocolates so I have high hopes for these.
They're currently available in ASDA and I can't wait to try them: Magic Stars classic and popping candy.
On the website the only may contain warning is for soya but as always please do check full ingredients and may contain warnings in line with your allergies and ethics.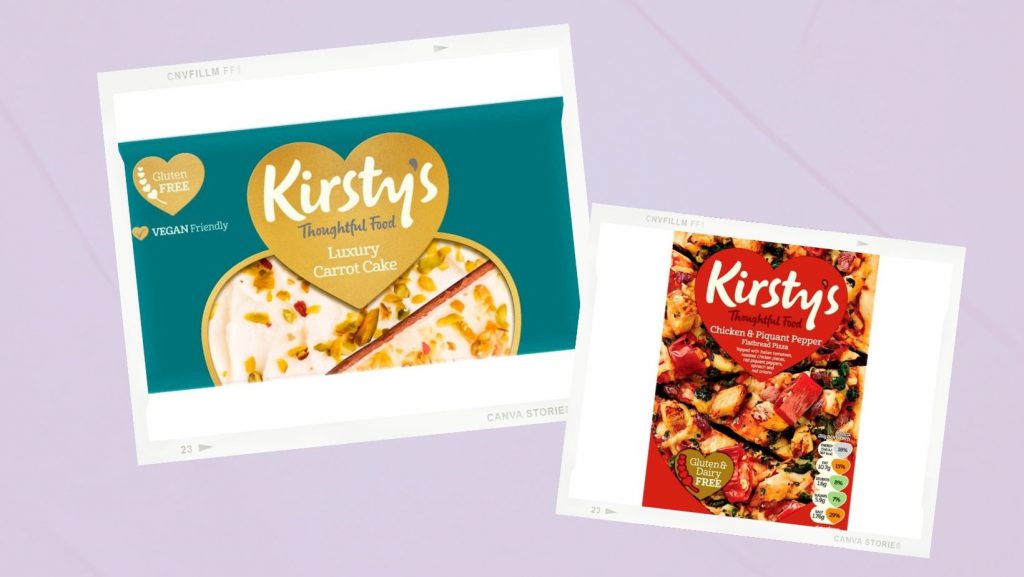 I am a huge fan of the Kirsty's brand, the healthy and dairy-free ready meals are some of my go to options for when life is particularly busy.
Kirsty's have lots of new products on the way but today I'm sharing four which I can't wait to try. The first two are currently available in Morrisons – Luxury Carrot Cake and Chicken and Chargrilled Chicken Flatbread Pizza
The Luxury Carrot Cake looks SO good. It can be found in the frozen section alongside their Golden Billionaire Slice and Luxury Apple Pie. I've read a lot about this carrot cake and was pleased to see that it should taste like the real deal because it's topped with a zesty vegan cream cheese frosting. A carrot cake without a cream cheese topping just wouldn't be right. Let me know if you've given this a try.
The Chargrilled Chicken Flatbread Pizza looks like something I need to keep to hand for lazy evenings. It's basically a stonebaked flatbread with Italian tomatoes, roasted chicken pieces, red piquant peppers, spinach and red onions. I wouldn't mind that for my lunch today.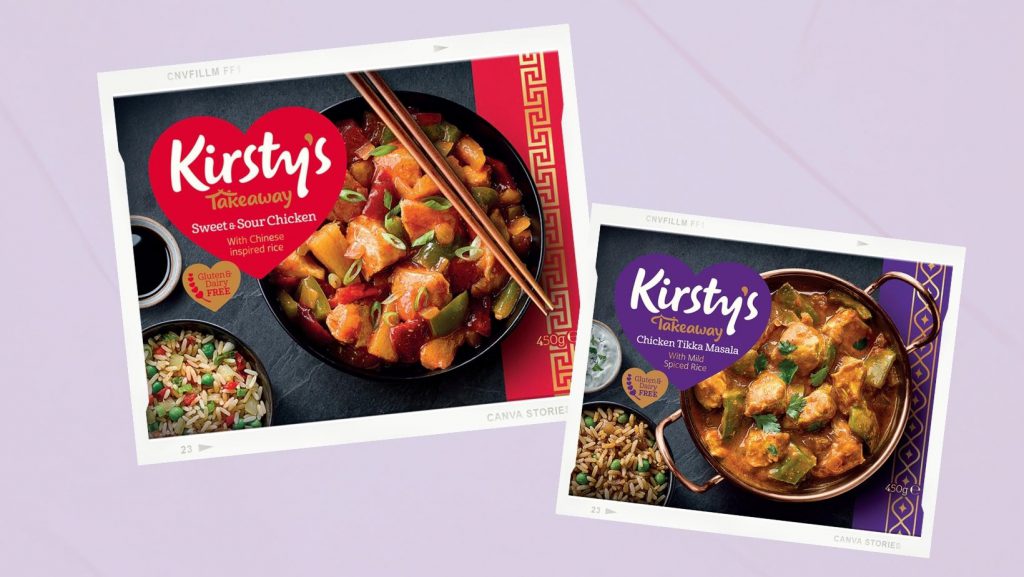 Now this is very exciting. The two other products from Kirsty's I want to highlight to you are the new takeaway options which are now available and on offer in Sainsbury's.
Sweet & Sour Chicken and Chicken Tikka Masala both on an introductory offer at £1.75.
These have not been designed to be like the original range of dishes from Kirsty's. They're not meant to be healthy but instead are meant to be an indulgent but dairy-free safe option of your favourite Friday night takeaways.
The Sweet & Sour Chicken has, as you can imagine, a sweet and sour sauce with chicken, pineapple chunks and green and red peppers. It comes alongside Chinese inspired rice.
The Chicken Tikka Masala has a creamy tikka sauce with green peppers and mildly spiced rice. That sounds pretty good to me. I'll be sure to report back on here and Tiktok when I've given these dairy free takeaway treats a try.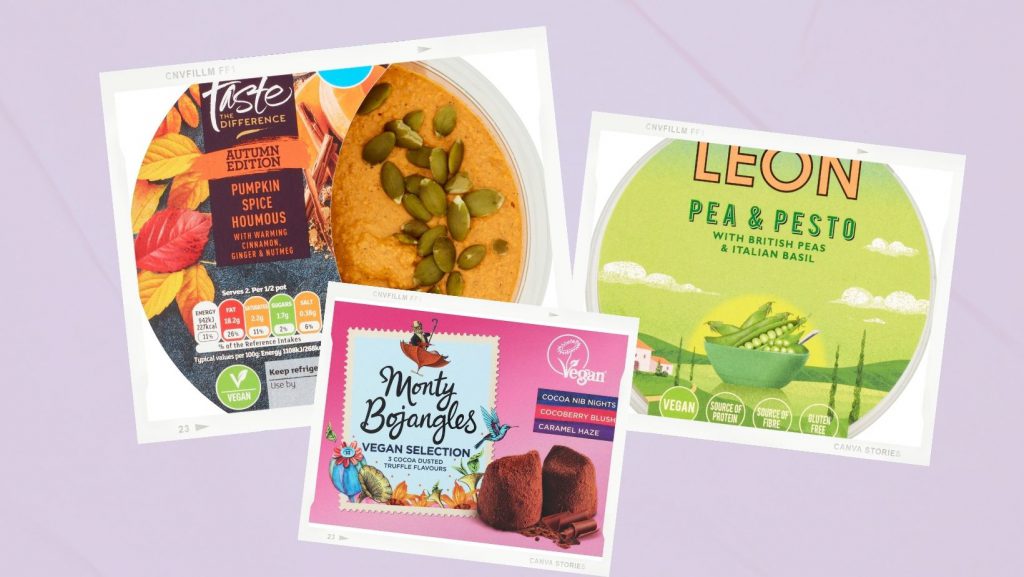 I've heard that Sainsbury's is going to be the one to watch for new product lunches this autumn and I can already see that there are lots of new things on offer. I've already highlighted the new Kirsty's takeaway meals but I have three more products to share with you today.
As previously mentioned, always double check ingredients and may contain labels.
Taste The Difference Autumn Edition Pumpkin Spice Houmous – We always have a pot of houmous in the fridge and often make it from scratch at home. It's jut a good staple for dairy free lunches. This one caught my eye because of the pumpkin spice, I love an autumn themed product.
This houmous is made with chickpeas, pumpkin, tahini, sesame seed paste, olive oil and spices. YUM!
LEON Pea & Pesto soup – I've tried lots of new products from LEON recently and always enjoy their cookbooks so it will be good to give their new range of soups a try. I'm very into pea soups at the moment, the one from BOL is a firm favourite so it will be good to see what this one is like. The description says that this is a green soup with pea, cannellini beans, spinach, broccoli, kale, basil oil and tofu.
Monty Bojangles Vegan Selection – At last Monty Bojangles have come through with a vegan box of truffles. They do come with a may contain warning so please check the label to ensure these are suitable for any allergies you suffer with. The box is filled with an assortment of vegan coco dusted truffles. The flavours are: Cocoa Nib Nights which has a cocoa nib flavour, Cocoberry Blush which has coconut pieces & raspberry flavour and Caramel Haze which has caramelised hazelnut chips & caramel flavour.