Today I'm sharing 6 new dairy free launches at Tesco but as a bonus you should also keep an eye out for the new Ben & Jerry's Pish Food which is said to be dropping soon.
There are lots of new dairy free products popping up in Tesco at the moment. I feel like every time I go in there's something new and exciting to look at. I'm yet to see much Christmas stock in but I'm keeping an eye out and hope to also see some fun dairy free Halloween options soon.
A important disclaimer: Please check full ingredients lists and may contain warnings to ensure products are suitable for your intolerance or allergy. Some products may be free from dairy but could still be made on the same factory line as other dairy free products.
6 New Dairy Free Launches at Tesco
Catherdral City Dairy Free Grated
Cathedral City have finally entered the market with their first dairy free cheese option. They already do a lactose free option for those of you that can have it but for anyone with an allergy or for those of you who're vegan this is one to check out (always check for may contain warnings).
It's no secret that I'm not the biggest fan of dairy free cheese, unless I'm making cheese straws or using it within cooking. I'm intrigued to see what this will be like…Intrigued but a little nervous.
Gu Free From Zillionaires Cheesecake
If you're looking for a dairy free or gluten free sweet treat then this new launch from Gu could be just what you need. It has a gluten free biscuit base with a layer of caramel creme, salted caramel and coconut cream. It's topped with chocolate ganache and sugar pearls.
I spotted this in my local Tesco the other day and the very next morning they'd sold out.
Wicked Kitchen is a brand exclusive to Tesco and they've just launched 3 new milkshakes – banana, strawberry and chocolate. All 3 are oat and coconut based. I've never been super fussed about milkshakes although that could be because they were never dairy free but I'd love to know what these are like.
Jord Organic Oat & Vanilla Drink
We really like the Jord milk alternatives in our house and use the oat and hemp one pretty regularly for our morning coffee.
This new lunch from Jord sounds really good. I'm not sure if this is to be used as a milk alternative in coffee or if it's more of a milkshake. I'm thinking the former. I'll grab a bottle as soon as I spot it in my local shop.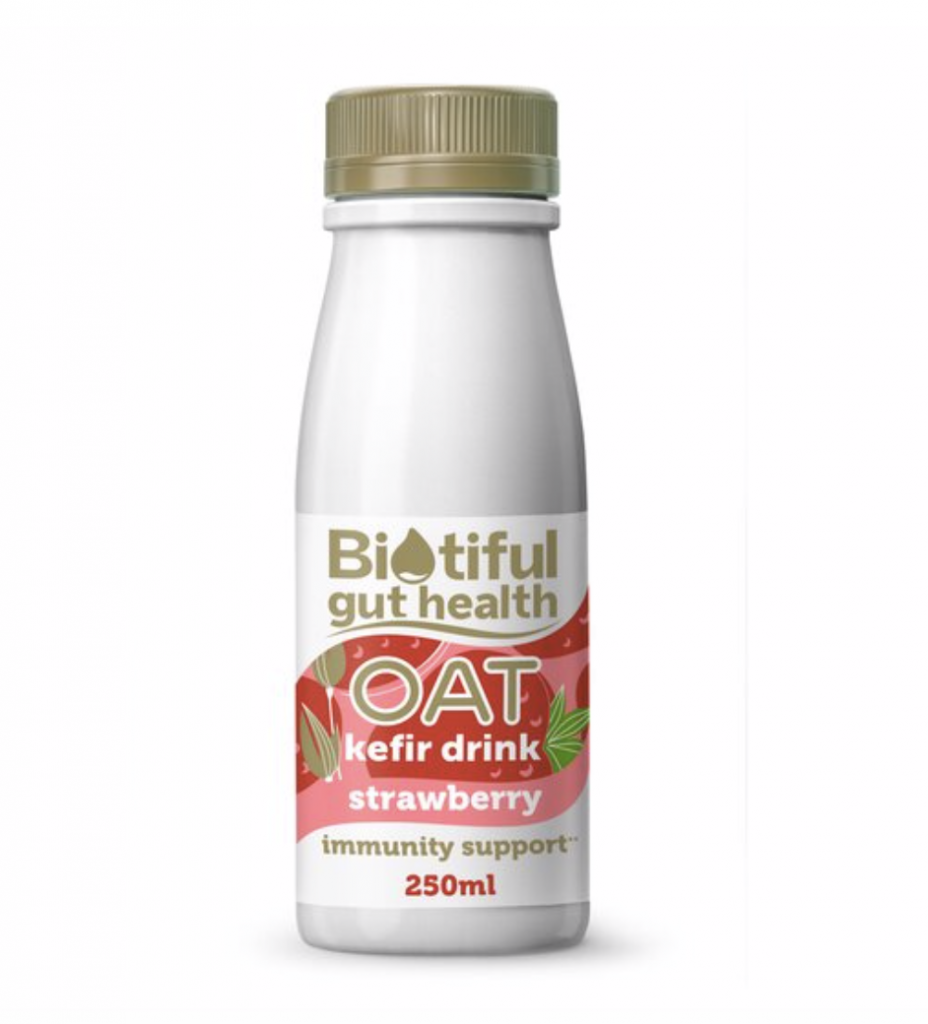 Biotiful Plant Based Oat Kefir Strawberry
I haven't tried any of these kefir drinks before as they're usually dairy based but I know they're popular. The Biotiful Plant Based Kefir is a fermented oat based drink with strawberry and added vitamins and calcium.
The Coconut Collaborative Apricot Coconut Yogurt Alternative
The Coconut Collab keep coming out with new dairy free products and as a big fan of the brand I want to try them all.
These yogurts have calcium and vitamin D which makes them particularly good for little ones as it helps with children's bone development.