As with my Tesco dairy free Halloween round-up I struggled to find much on the Morrisons site. They have lots of usual sweets that fall into the dairy-free category but not much in the way of Halloween.
Anyway, as with my Tesco post I thought it was only fair to still share the few bits I found. It looks like they have a much more exciting line-up for Christmas time so do keep an eye out for that.
Here are the links to the other supermarket Halloween round-ups I've shared this week.
8 Dairy free Halloween buys from ASDA
6 Dairy free buys from Sainsbury's
12 Dairy free Halloween buys from Ocado
4 Dairy free Halloween buys from Tesco
Disclaimer: Please always check full ingredients lists and may contain warnings to ensure products are suitable for your intolerance or allergy. Some products may be free from dairy but could still be made on the same factory line as other dairy free products.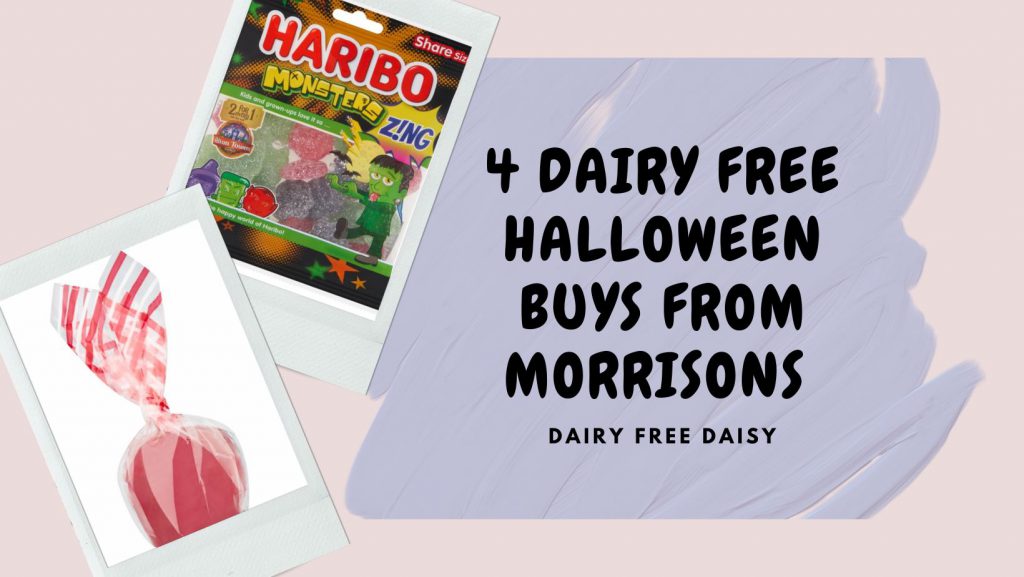 Red Toffee Apple – These are perfect for Halloween or Bonfire night although I don't think I've had one since I was a child.
Haribo Monsters Zing Halloween Sweets Bag – Themed sweets are always a winner.
Rocky Mountain Mega Marshmallow – These are the huge marshmallows which would be perfect for toasting.
Haribo Sour Skeletons Halloween Sweets Bag – I really like these and quite a few of the supermarkets seem to be stocking them, very on theme for October.