There's just over one week to go 'til it's Halloween and this year we're spoiled for choice when it comes to dairy free options. I was going to do one mega post of dairy free friendly Halloween products but at the last minute I decided to split the post into shop/supermarket specific brands and today we're starting with Ocado. Ocado always has a good range of dairy free options and it's no different for Halloween Well, it's not just Ocado because M&S are also stocked there so they have a pretty good selection of savoury Halloween options and sweet treats this year.
There are of course lots of dairy free friendly sweets (some are vegan but not all are) which are available throughout the year which would be brilliant for Halloween. However, in today's list we're focusing on more specifically Halloween-themed and branded products.
Important disclaimer: Please always check full ingredients lists and may contain warnings to ensure products are suitable for your intolerance or allergy. Some products may be free from dairy but could still be made on the same factory line as other dairy free products.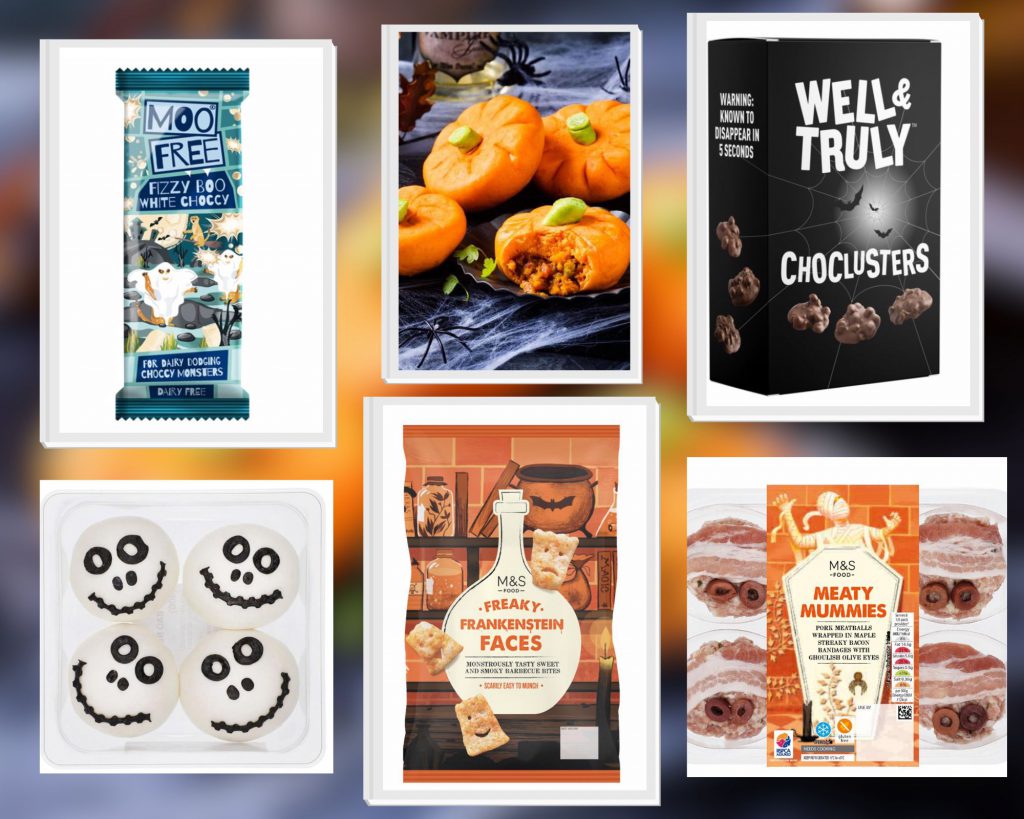 Halloween Buys at Ocado
M&S 4 Boo Bao Buns – I love the bao buns that M&S do and these Boo Buns sound delicious. There are 4 in a pack with a veggie sticky sweet and sour filling. They're dairy free and vegan friendly but do come with a may contain warning due to production methods.
M&S Blackened BBQ Chicken Wings – These are chicken wings with a blackened BBQ style marinade and sticky BBQ sauce. Let's be honest, this is more about branded packaging than anything else but if you can make it into a story when you do the shopping with the kids it could be quite fun.
M&S Box O' Bats – Mischievously delicious and fiendishly tasty breaded chicken 'bats'.  These are a nice and easy way to have an easy Halloween themed dinner.
Moo Free Halloween Grave Pack – A pack of 5 Moo Free chocolate bars with different Halloween-themed designs. Moo Free is a classic when it comes to dairy, gluten and soya free chocolate, especially for little ones.
Moo Free White Fizzy Boo – In addition to the pack of Halloween-themed chocolate bars Moo Are are also selling them individually.
Well&Truly Halloween Box with Oat Milk covered Hazelnut Clusters – I'm a big fan of Well & Truly chocolate. It's oat based chocolate and although I've tried their bars before I haven't had these clusters and hopefully I can order some before Halloween. These also come with a may contain warning which I presume is due to production methods so as mentioned earlier in the post, please always check ingredients and may contain warnings.
Well&Truly Haunted Oat Milk Chocolate Clock Tower – I love the branding of this Clock Tower from Well & Truly it just adds a little extra fun for Halloween. It's filled with 5 dairy free chocolate bars – 3 Oat M&lk Chocolate and 2 Caramelised Hazelnuts and Oat M&lk Chocolate.
HARIBO Sour Skeletons Sweets and Monsters Zing Fizzy Sweets – These Sour Skeletons and Monsters Zing are both dairy free and perfect for Halloween but aren't vegan friendly.
M&S Franken-Fishes – These are cute little battered cod bites with a spookily tasty sweet chilli dip.
M&S Meaty Mummies – Okay, these really look the part and I MUST get them. These are British pork meatballs wrapped in maple cured streaky bacon bandages, finished with ghoulish olive eyes.
M&S Plant Kitchen 4 Pumpkin Shaped Bao Buns – These are super cute boo buns with a cats curry filling.
M&S Freaky Frankenstein Faces – Monstrously Tasty Sweet and Smoky Barbecue Bites, Scarily Easy to Munch, Suitable for vegans.