In my last post we were talking about all the dairy free Halloween finds at Sainsbury's and we've also covered dairy free spooky season at Ocado too. Today we're taking a closer look at what ASDA has to offer all dairy free Halloween loving folk.
ASDA is one supermarket that I forget about now we've moved house. The closest one is across the other side of the city but they always have some really good dairy free options to pick from so I'm trying to get over there more often. I recently found these Extra Special Free From Peppermint Truffles which are so so delicious and perfect for Christmas. Anyway, let's get into Halloween.
Disclaimer: Please always check full ingredients lists and may contain warnings to ensure products are suitable for your intolerance or allergy. Some products may be free from dairy but could still be made on the same factory line as other dairy free products.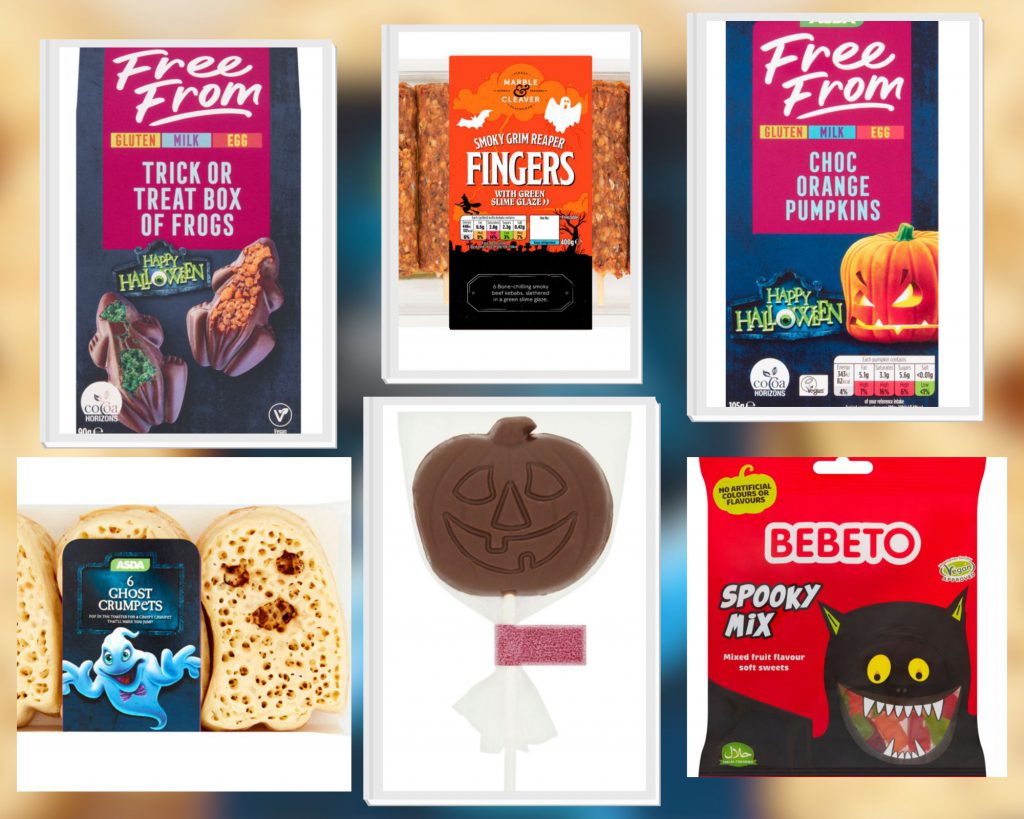 ASDA Free From Free From Choc Orange Pumpkins – Gluten, milk and egg free orange flavoured rice based alternative to milk chocolate pumpkin shaped pieces. It's so nice to get Halloween-themed shaped chocolates and not just themed packaging.
ASDA Free From Trick or Treat Box of Frogs – These look pretty good. Despite not being much of a Harry Potter fan I know these are linked to the film in some way. Anyway, they very much look the part for Halloween and I'm intrigued.
Bebeto Spooky Mix Sweets Sharing Bag – You can't go wrong with jelly sweets at this time of the year.
ASDA Free From Choc Lollipop – Pumpkin shaped chocolate lolly – perfect for littles and bigs.
ASDA Ghost Crumpets – We love these ghost shaped crumpets. Themed crumpets always go down a treat in my house because they're a fun and easy way to get into the spirit..
Bebeto Gummy Brains Sweets Sharing Bag – Gummy brains would be excellent for my yearly Halloween rocky road.
Marble & Cleaver Smoky Grim Reaper Fingers with Green Slime Glaze – It's nice to see lots of supermarkets bringing some savoury options into the mix this year. These sound tasty, even with the green slime glaze.
Marble & Cleaver Dracula's Rump Stake with Ghastly Garlic Rub – Another savoury option which would go down a treat for a Halloween themed dinner.