The second episode of the Dairy Free Daisy Podcast launched today and I really hope you enjoy it.
You can listen and subscribe over on Spotify or Apple for weekly dairy free uploads.
Find out more about our first introductory episode where we discuss my dairy free journey, why people consider switching to a dairy free diet and some of my favourite dairy free staples.
In this second episode I chat with my producer Connor about lots of exciting dairy free news and product launches. Some of the things we cover include Starbucks dropping their charge for milk alternatives, Plant Based Philadelphia, Lindt vegan chocolate and much more.
Read on to find links to the products we mentioned throughout episode 2.
As always, please check and double check ingredients in accordance to your allergies and ethics.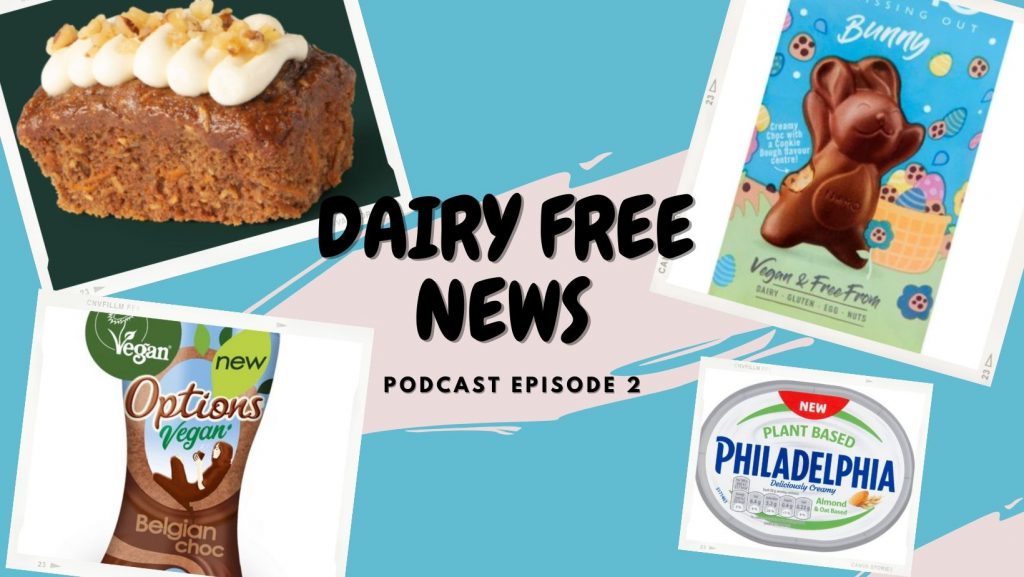 Starbucks Launches
So, the super important news is that Starbucks have made all of their dairy milk alternatives free. It's about time too and luckily it wasn't just for Veganuary.
Here are a couple of the dairy free Starbucks products we talked about but don't forget that there are lots more options.
Oat lattes – Strawberry & Vanilla, Dark Chocolate & Orange and Honey & Hazelnut
Cheese News
Applewood Vegan Smoky Cheese Alternative
Follow Your Heart – Pepper Jack Slices
Philadelphia Plant-Based Almond & Oat Soft Cheese
Babybel Plant-Based Vegan Snacks
Vegan Egg Alternatives
Milk
Alpro This Is Not Milk – More info here and buy here
Chocolate
Lindt vegan Smooth and Hazelnut chocolate
Cadbury Vegan Salted Caramel and Original
Hot Chocolate
Options Vegan Belgian Hot Chocolate Drink
If you have any topics or products you'd like us to discuss on the Dairy Free Daisy podcast then feel free to leave a comment, send an email or drop us a message over on Twitter, Instagram or TikTok.