When I first started to cut out dairy there weren't any free-from dairy advent calendars around. As the years have gone by that's slowly changed and now more and more dairy free and vegan advent calendars are hitting the market each year.
I mention this all the time but want to clearly state at the start of this post just how important it is to double check ingredients and 'may contain' labels on anything you buy. I can have products that are made in the same environment as dairy products but others can't and equally someone may choose not to for ethical reasons. If a product is made to a vegan recipe it may not be made in an environment that is totally free from dairy. So, it's essential you fully check ingredients as I do share products that have 'may contain' warning.
I love the idea of totally chocolate free advent calendars like the gin and beauty ones but what I really want is the simplicity of a little chocolate hiding behind each door in the run up to Christmas. There's something really nostalgic about it and if you have little ones then they won't feel left out from siblings who can have dairy. If you're here because you have a toddler who can't have dairy then hopefully today's list will help but if not there are also lots of chocolate free advent calendars for toddlers.
There are now so many chocolate and sweet treat options for anyone who lives a dairy free life. Let's dive straight into the list of the ones that have caught my eye this year.
As I mentioned before, please always double check ingredients lists and may contain warnings in accordance with your allergies and ethics. Where possible I will add in the 'may contain' warnings within this post but it is essential to check the packaging before you buy.
10 Dairy Free & Vegan Advent Calendars 2021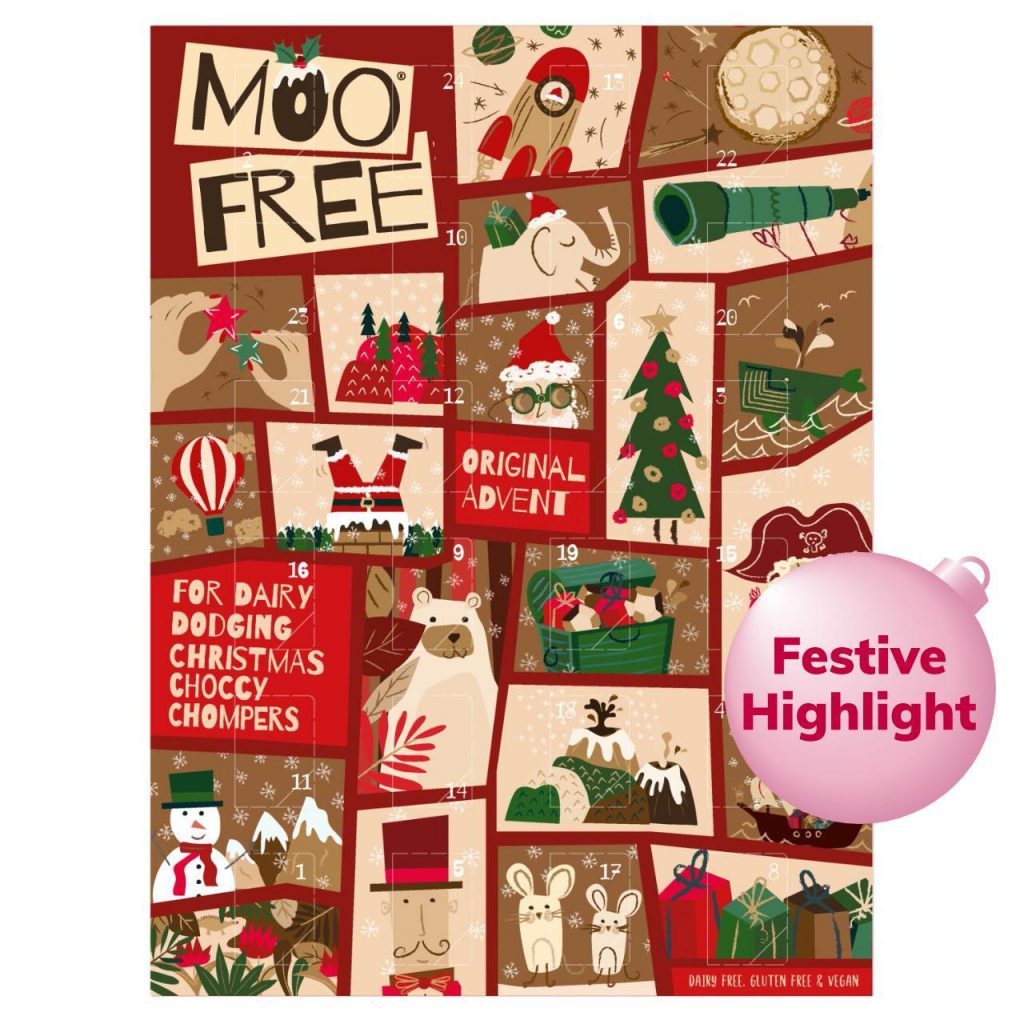 Price – £3.99
A true classic when it comes to dairy free chocolate for those with allergies. I always enjoy their chocolate and love that they have so many fun launches this year. They also do a white chocolate version.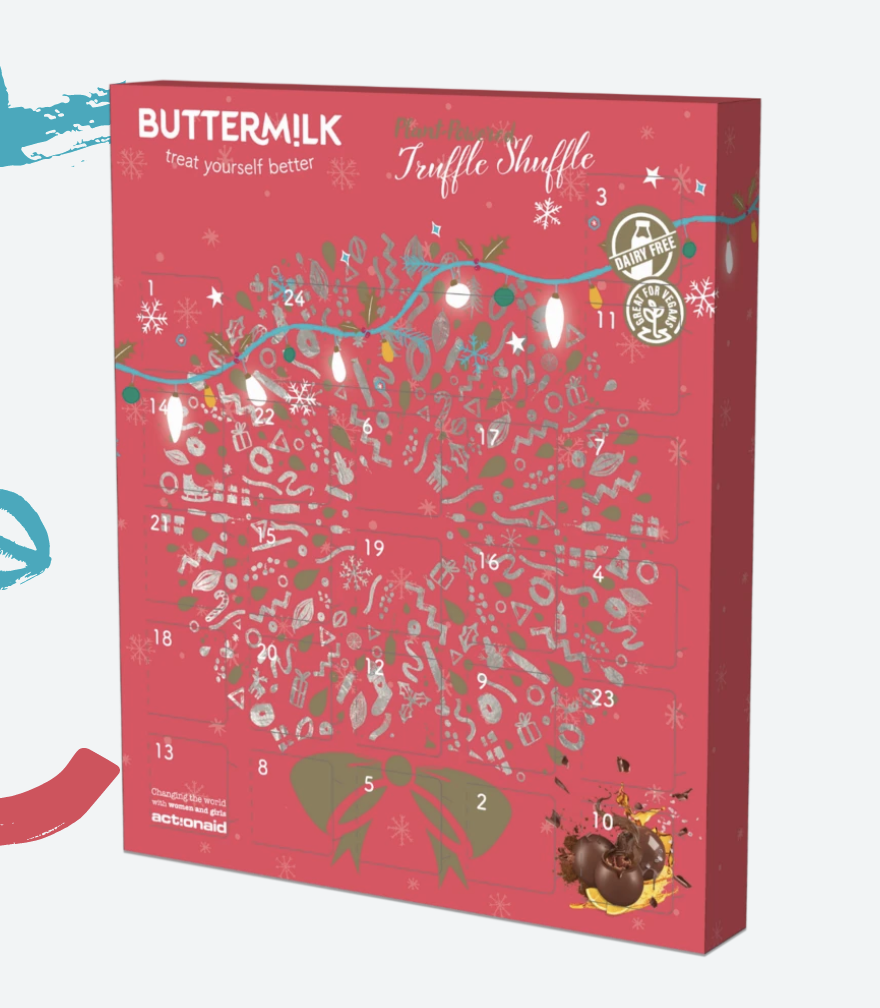 Buttermilk Truffle Shuffle Advent calendar
Price – £13
I've heard very good things about Buttermilk and this advent calendar sounds like such a treat. There are 3 types of dairy free chocolate truffles hiding behind each of the doors including orange truffles, choccy truffles and caramel truffles. Then on Christmas day there"s an extra zingy surprise.
NOMO Vegan & Free From Advent Calendar
Price – £5.00
I am really into NOMO chocolate at the moment and would be very happy to have one of their advent calendars (scroll down to see the other one). Inside this calendar is a selection of non-dairy milk chocolates with caramel and sea-salt as well as creamy chocolates.
Suitable for people with Milk, Egg, Gluten, Peanut and Tree Nut allergy.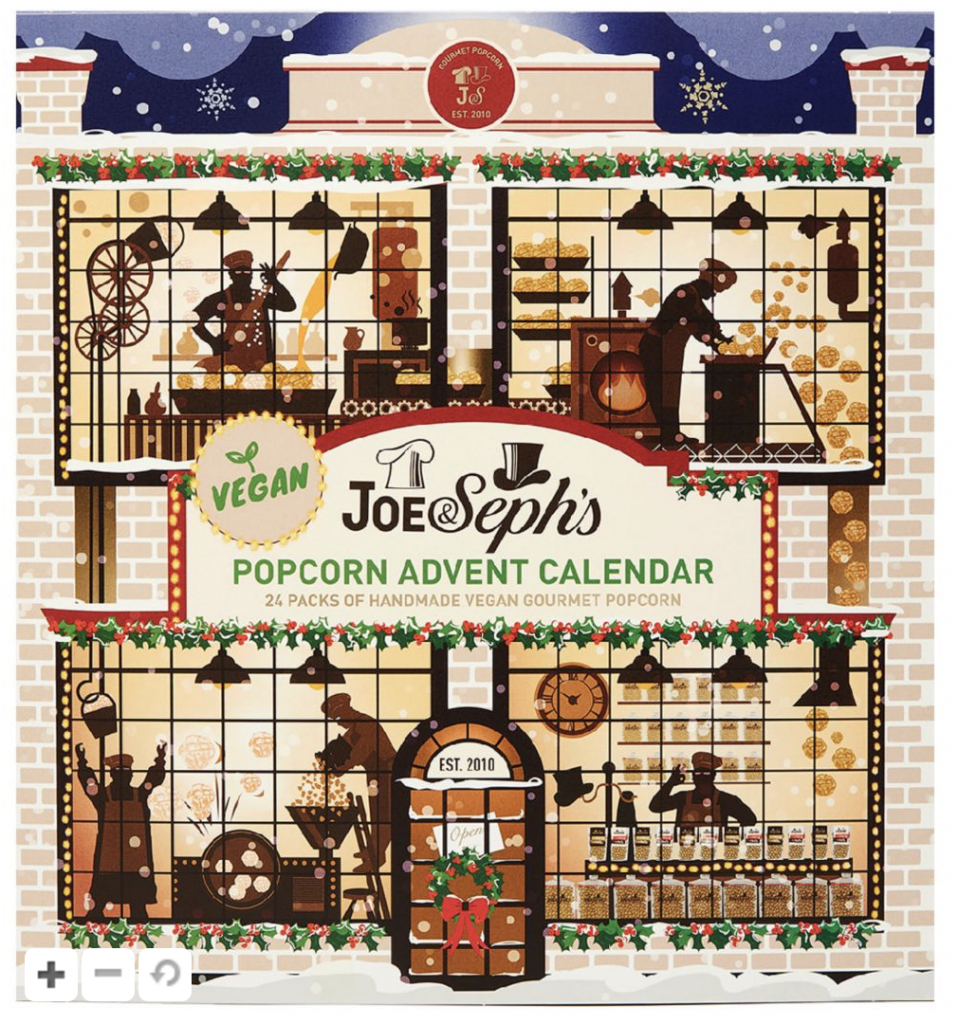 Joe & Seph's Gourmet Popcorn Vegan Advent Calendar
Price – £20
So this one isn't really chocolate but it's something a little different. There are 24 bags of vegan flavoured popcorn inside this pretty advent calendar.
Flavours included:
Salted Caramel Popcorn
Toffee Apple & Cinnamon Popcorn
Coconut & Cacao Popcorn
Salted Maple
Olive Oil, Black Pepper and Sea Salt Popcorn
Orange Chocolate Popcorn
Dark Chocolate Popcorn Strawberry Caramel Popcorn
Made in an environment where milk, nuts, peanuts and sesame seeds are present.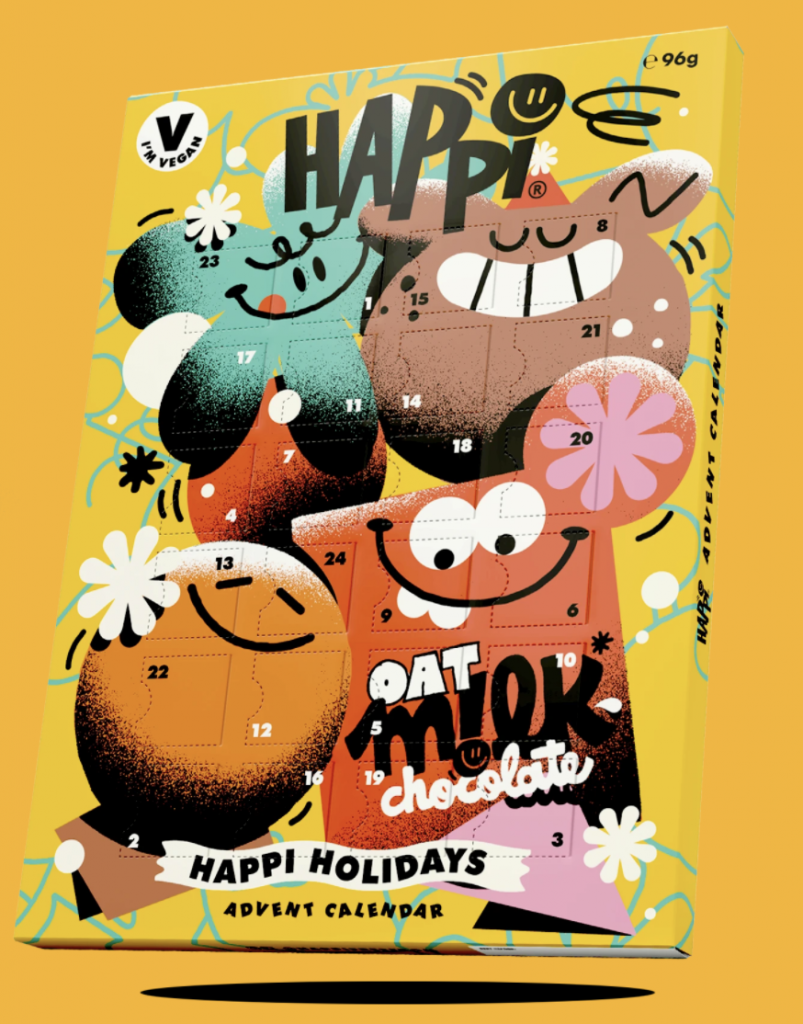 Price – £15 for 2
I am very keen to try Happi chocolate. It's not one i've seen in the shops (yet) but keep hearing about it online. Happi make allergen-free oat based milk chocolate and it comes in the cutest branding.
Produced in a factory that also handles milk, soya, nuts, peanuts and wheat.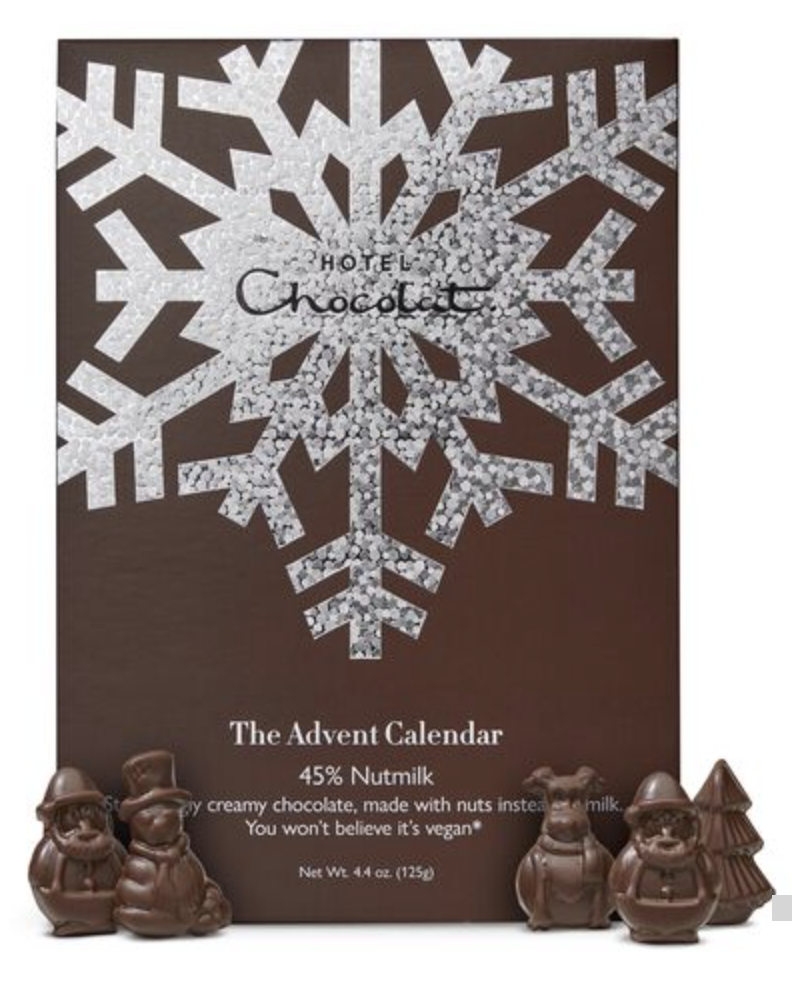 Hotel Chocolat Nutmilk Chocolate Advent Calendar
Price – £12.50
You can't go wrong with Hotel Chocolat in my opinion. I love that each of the chocolates in this calendar are cute little festive shapes. The chocolate is made of 45% cacao and finely milled hazelnuts in place of milk.
Their Nutmilk chocolate is made in the same factory as their milk chocolates.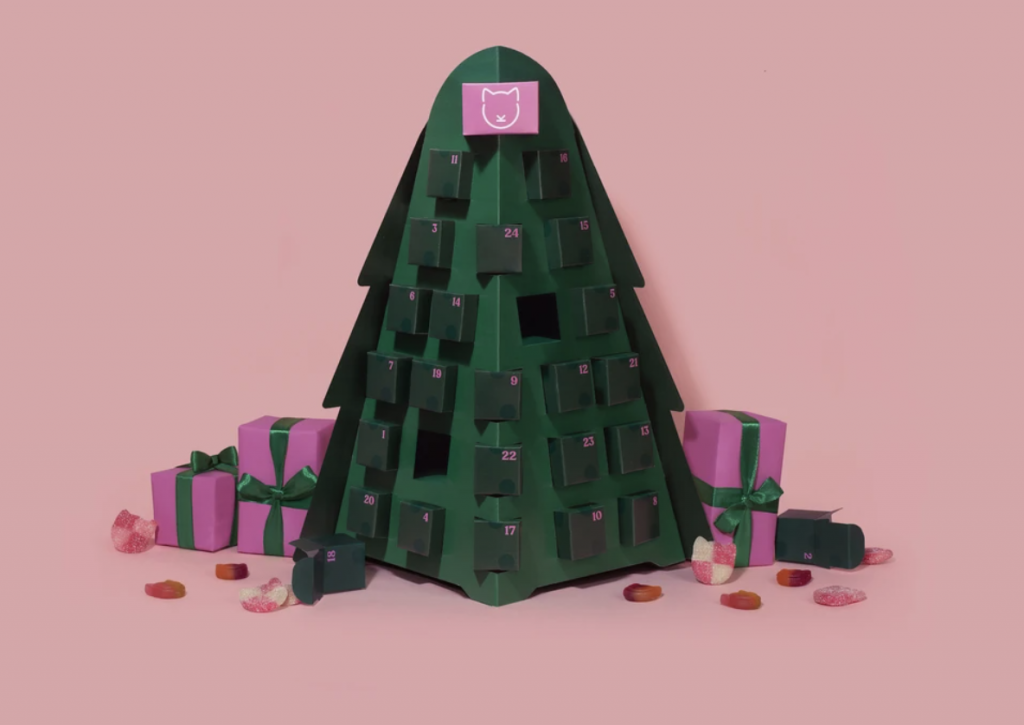 Candy Kittens Advent Calendar Tree
Price – £12
This is such a pretty advent calendar from Candy Kittens. The 3D tree is very cute and is filled with a selection of vegan gourmet sweets including flavour from their new Gourmies range which you can see here.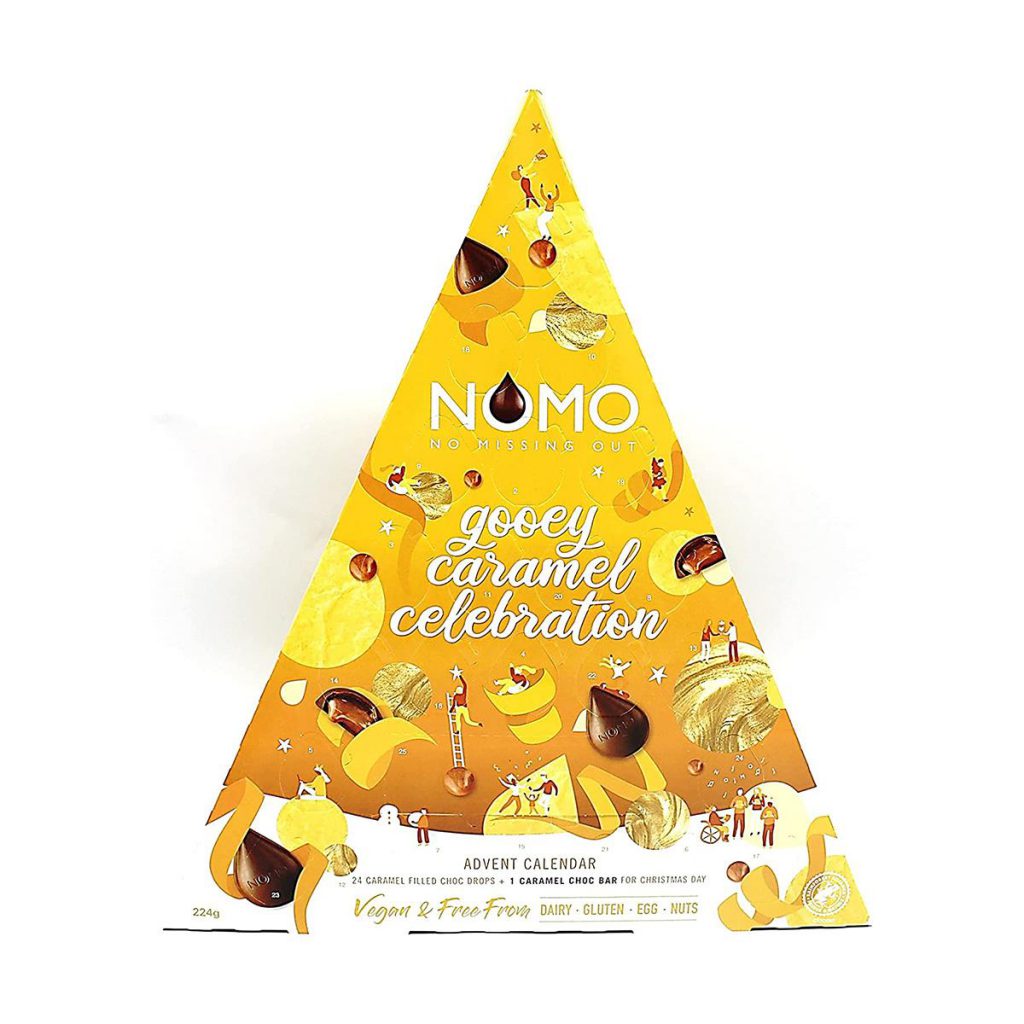 NOMO Premium Caramel Advent Calendar
Price – £11.50
I told you there was a second option for NOMO this year. This is their gooey caramel option for advent. It's filled with 24 caramel pieces and a caramel chocolate bar for the big day.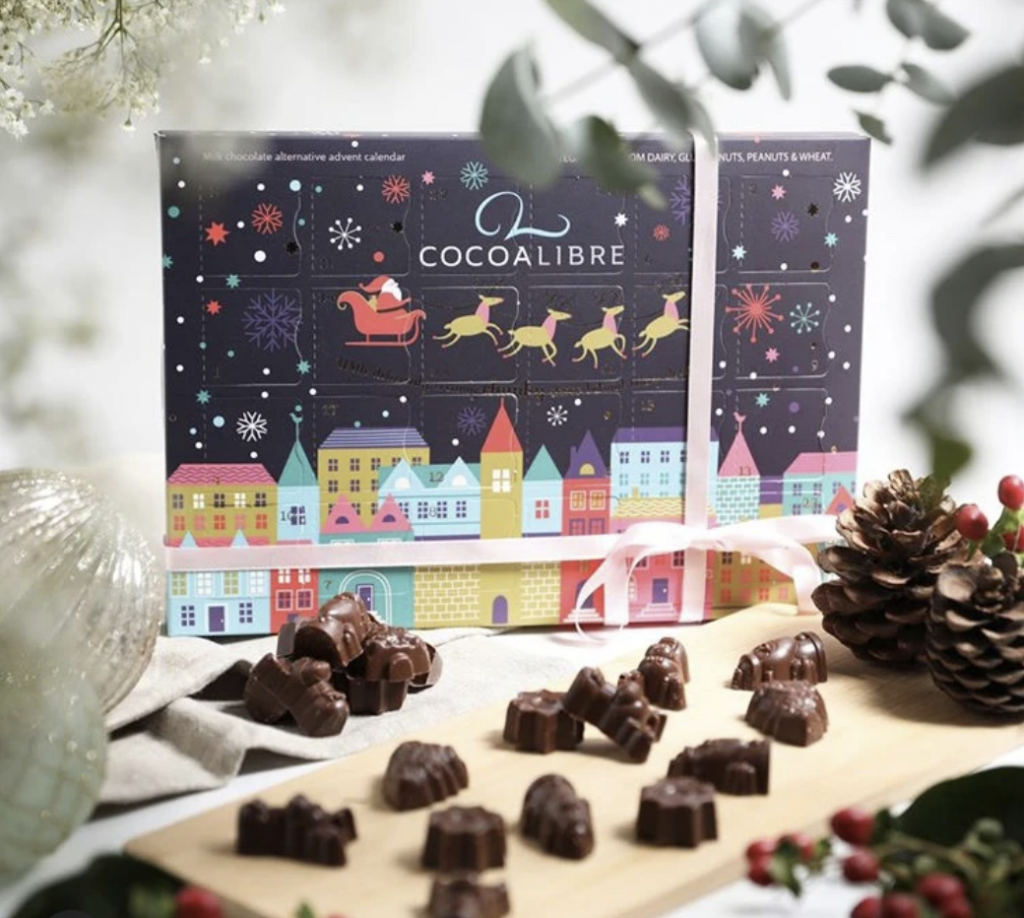 Cocoalibre Luxury Rice Milk Advent Calendar
Price – £15
Cocoalibre is such a lovely brand. I first tasted their chocolate a few years back at the Allergy & Free from show in Liverpool and fell in love with it. The chocolate is rice milk based and the calendar is filled with 24 super cute festive shapes including reindeer, santas, stars and Christmas trees.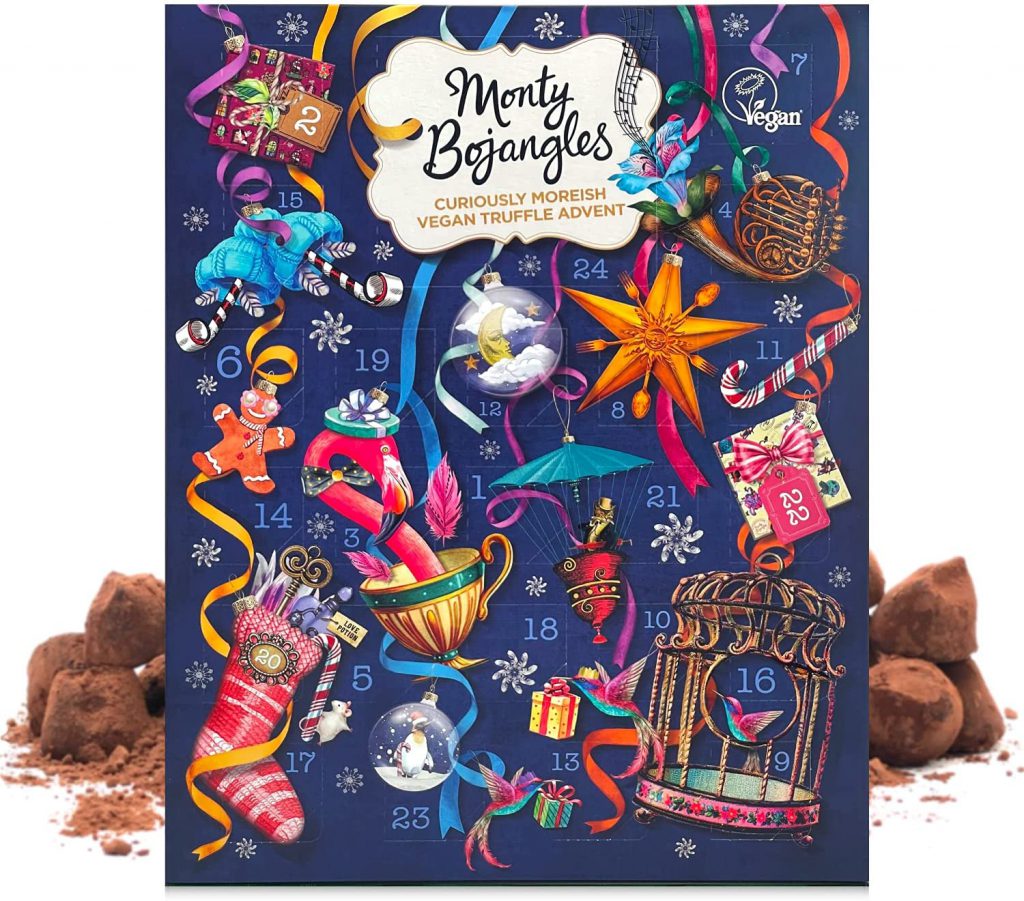 Monty Bojangles Advent Calendar with Cocoa Dusted Chocolate Vegan Truffles
Price – £12.99
Monty Bojangles is such a fun brand. Behind the magical doors of advent you'll find individually wrapped vegan cocoa dusted truffles, with 3 to enjoy or share behind the final window.
Flavours include:
COCOA NIB NIGHTS – Cocoa Nib Nights is a rich and chocolatey truffle with crunchy cocoa nibs inclusions, coated with a generous dusting of exquisite bitter-sweet cocoa powder.

COCOA BERRY BLUSH – A creamy smoothie-like mellow raspberry flavoured truffle made dreamy with toasted coconut inclusions. A chocolate indulgence with all the fresh vibrance of a soft red fruit milkshake.

CARAMEL HAZE – A rich and buttery chocolate truffle with delicious toasted crunchy hazelnut pieces. A heavenly nutty caramel delight
Not used as ingredients but may contain traces of PEANUTS AND MILK.