I hope you're having a good start to the week.
I've just had a quick look and there are a few new dairy free products over on the Ocado website. I've picked out some that caught my eye and thought I'd share them here with you. Some are totally new products and others are just new to Ocado.
I tend to shop at most supermarkets and a variety of independent stores too. I find it's the best way to get good deals and see what's on offer, especially when it comes to dairy free products. Just as a quick example, I know that each major supermarket will take it in turn to have my favourite milk alternatives on offer so it's important to always keep an eye on where the deals are at.
A important disclaimer: Please always check full ingredients lists and may contain warnings to ensure products are suitable for your intolerance or allergy. Some products may be free from dairy but could still be made on the same factory line as other dairy free products.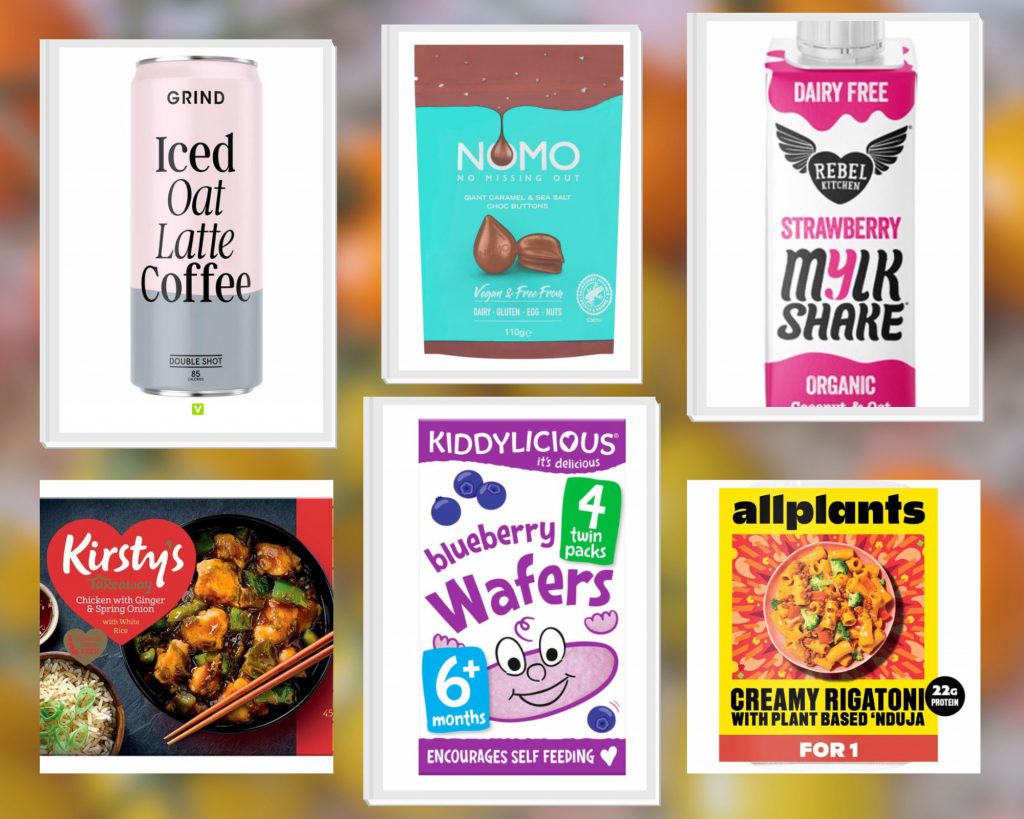 Grind Iced Oat Latte Coffee – £2 – A new dairy free iced coffee has hit the shelves and this time its from Grind, a London based coffee company. I'm keen to try this because firstly, I like the branding and second I've had Grind coffee beans before and really enjoyed them.
allplants Creamy Rigatoni with Plant Based 'Nduja – £5.50 – I keep seeing products from all plants popping up in the supermarkets but I'm yet to try anything from the brand. This ready-to-go dish sound like a truly comforting meal. It's rigatoni pasta tossed through a luxuriously creamy, smoky and spicy sauce. I'd really like to give this a try but the price point is just that bit high for a read meal. However, if it goes on offer I'll give it a try.
Kiddylicious Wafers, blueberry, baby snack – £1.30 – I'm currently weaning my baby and he loves these wafers from Kiddylicious. They've just launched these smaller sized packs and of course, they're dairy free.
NOMO Sea Salt & Caramel Buttons Share Bag – £2.75 – NOMO chocolate is an excellent dairy free alternative and these Sea Salt & Caramel Buttons sound delicious. It makes a nice change to see a dairy free chocolate in a sharing bag size instead of a tiny one.
Kirstys Chicken with Ginger and Spring Onion – £4 – I enjoy most of the Kirsty's range. They do dairy and gluten free products and are stocked in most major supermarkets. This is a chicken based dish with a Chinese style sauce alongside rice. It's a new product to the Kirsty's takeaway range and I look forward to trying it at some point but the price point does seem a little higher than other products in the range which come in at around £3.75 on Ocado.
Rebel Kitchen Dairy Free Organic Strawberry Mylk Shake – £1.55 – This is a coconut and oat based strawberry milkshake. I haven't tried any of the Rebel Kitchen shakes but I've heard good things about them.